Yearbooks Overview
Since 2015, Kaymbu has been delighting families with one-of-a-kind yearbooks that feature the photos tagged to their child. This year we are introducing a new yearbook option: School Yearbooks. This exciting offering allows organizations to design yearbooks that they can then offer to families. Learn more about Kaymbu Yearbooks and School Yearbooks below, and take the next steps to enroll your program in one of these amazing options!
Table of Contents
School Yearbooks
A new option as of last year, School Yearbooks allows organizations to design the perfect yearbook that educators and families will treasure for years to come. School programs that opt to make School Yearbooks will enjoy Kaymbu's:
Easiest-to-Use Builder
Forget every painful experience you've had creating a photo book! Kaymbu's industry-leading designer removes all frustration, and with your photos already in the system, makes creating your perfect book a breeze.
Child-Friendly Designs
While other products focus more on K-12, School Yearbooks are designed to celebrate the wonderful years of early childhood!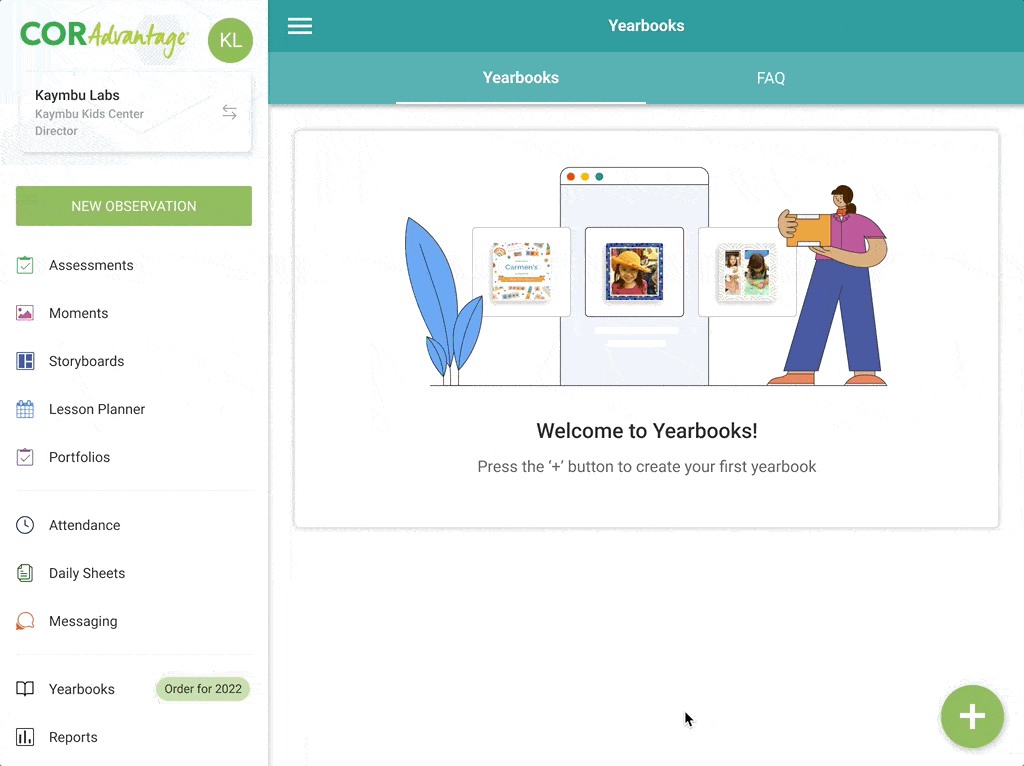 School Yearbooks FAQs
What is the cost for a School Yearbook?
Each yearbook costs $29, including shipping. There are additional fees for books longer than 50 pages.
What's the minimum order?
The minimum order is 10 books.
Can I design yearbooks for classrooms or different groups?
Yes! You can design a book around a classroom, center, small group, or whatever makes the most sense for you and your program!
Can I upload photos not in Kaymbu?
Yes! You can upload photos from your device into the book!
Get Started with School Yearbooks
If you'd like to enroll your program, fill out this form, or reach out to orders@kaymbu.com if you have any questions.
Kaymbu Yearbooks
The Kaymbu Yearbooks program allows families to order a full compilation of all photos for each child from July 1, 2022 through June 30, 2023. No selection or layout work is required -- every book is automagically generated and no two are alike, as they include images specific to the individual student that teachers tagged throughout the year. Here are some of the reasons schools and families love Kaymbu Yearbooks:
Kaymbu Handles Everything
Our yearbook team handles marketing, orders, support, fulfillment, and, well, everything else! Enroll today, and there are no more steps for you!
Support Your School
15% of all Kaymbu Yearbook proceeds are credited to your organization!
A Favorite Tradition
Families look forward to each year's new design that captures their special memories. 80% of families participating families are repeat customers!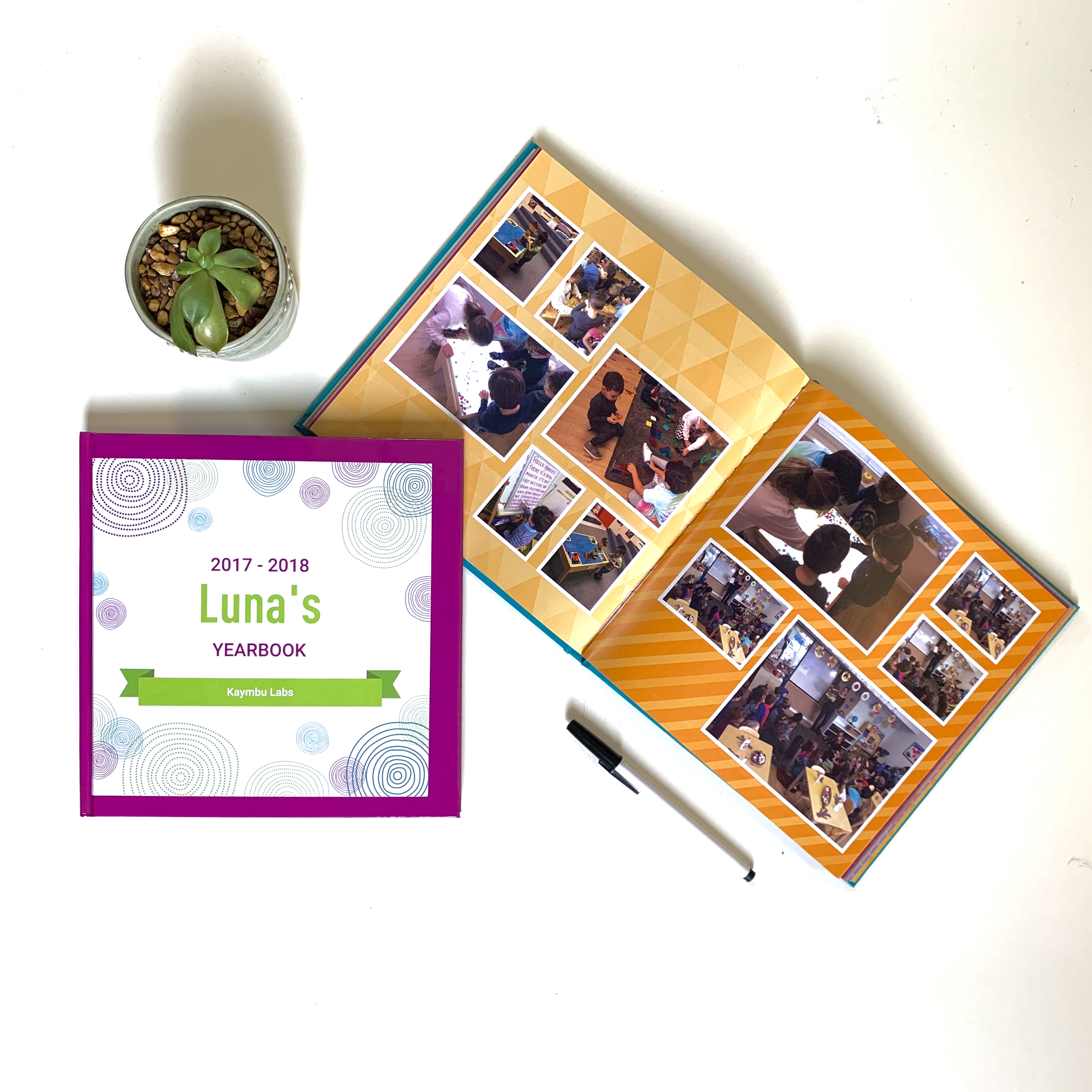 Families have a choice of two formats:
Hardcover Yearbook - We have partnered with one of the top print publishers in the United States to provide stunning hardcover photo books. These are similar to those you would purchase from services like Shutterfly or Snapfish, but much higher quality and designed to hold up to 3,000 photos each. The dimensions of the book will be square at 8.5" by 8.5".

Digital Yearbook (Download Link) - Families can also purchase the Digital Yearbook as a download link. Families receive an email with the link straight to their inbox! From there, they can download the original high-resolution versions of each photo/video of their child, a special version of the photos that include teacher-entered notes, and a custom musical slideshow.
School Communication Settings
Select the communication setting that works before for your program:
Full: Banners highlighting the yearbook program will appear on outgoing school communication, and the Kaymbu team will send a few emails explaining and promoting the program to families. This communication setting results in the most orders, so that's what we recommend!
Email Banners: Banners highlighting the yearbook program will appear on outgoing school communication.
School-only: We provide you with the link to send to your families, and that's it! You handle promoting the yearbook program.
Kaymbu Yearbooks FAQs
What is the cost of a yearbook for families?
A hardcover yearbook costs $73. A digital yearbook costs $24. A bundle combination of the two costs $85.
Do schools benefit from the yearbook sales?
Yes! Schools receive a 15% of all Kaymbu yearbook proceeds as a credit towards Kaymbu subscription fees.
Do schools need to do anything?
No! This process is fully automated and managed by Kaymbu and requires zero work on the part of schools. If you'd like to promote yearbooks in order to increase the credit that will be applied to your account, we'd be happy to send along promotional materials.
How do families purchase yearbooks?
Kaymbu will inform families directly about the program via email in April, May, and June. In addition, messages sent by your school through Kaymbu during those months will include a link in the footer for families to learn more about the yearbooks and place orders.
Which photos will be included?
Parents will receive all photos their child was tagged in from July 1, 2022 through June 30, 2023. Moments marked as Private within Kaymbu as well as private Teacher Notes will not be included.
How and when will the yearbooks be shipped?
The Hardcover and Digital yearbooks will be shipped directly to parents in mid-July.
Can yearbooks be shipped to addresses outside of the U.S.?
Yes! We are partnering with UPS to ship and deliver to all of their service areas worldwide.
What if my school does not want to participate in the program?
As always, schools can elect to opt out of this program anytime if it's not a fit for their school community this year. Just give us a call or send an email if this is your preference.
Get Started with Kaymbu Yearbooks
If you'd like to enroll your program, fill out this form, or reach out to orders@kaymbu.com if you have any questions.