What does it mean to close the school year?
As you are wrapping up a school year, it is important to preserve and keep data from the current year. Whether your program is continuing with the same students and staff next year or if your program is making structural changes, closing your school year properly allows you to save a record of all student and assessment data from the year and start a fresh new year!
Table of Contents
Accessing the School Year
Users with COR Advantage can access the School Year by going to Menu > Settings > Period Settings > School Year. Please note only the highest level users in COR Advantage will be able to close the year.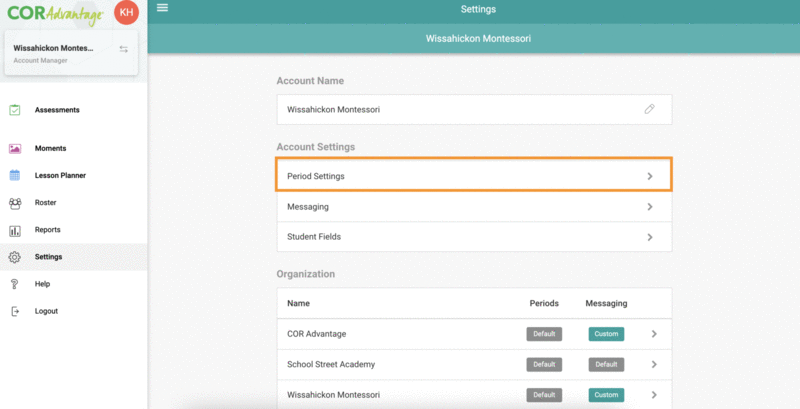 Why Should You Close the Year
Closing your school year is an important way to organize your data. Simply changing your period dates without closing your school year can lead to completely replacing your data from the previous year. By closing the school year properly, you are taking the recommended method to set up your new school year and dates without affecting past data. To learn more about the importance of closing the school year and for additional information, check out our webinar on wrapping up your year!
Prepare to Close the Year
The first thing to do in preparing to close your year is to ensure you know who on your administrative team will be closing the year as it is a one-person job. Only the highest level users will be able to close the year, but if you have several users at the same, highest level, you will need to determine which user will be actually closing the year!
Additionally, we highly recommend scheduling the year closing process and communicating the date with your team. While the workflow itself is very straightforward, the system will be unavailable while it closes the year. You should expect that you will not be able to access your Kaymbu account for up to 24 hours after you close the year, so you will want to be sure to let your team know so they can plan accordingly.
Next, you'll want to make sure all your data is finalized and accurate. There are a few things you'll want to check.
First, encourage teachers and users to ensure all the observations they want to be included in the year are published. They can scan the Assessment Dashboard to ensure the scores are accurate, and check the Moments page to see which observations have been published.
Second, confirm that your period dates are accurate and final for the entire year. You may not need to make any changes, but if there are any adjustments, be sure to make them now.
Third, using the Classroom or Student Completion Reports, confirm that your assessment completion rates are where you expect them to be. In COR Advantage, a child's assessment is considered complete when there is at least one scored observation per item. While your program may not require 100% completion for all children, be sure to use the Completion Reports to check.
Confirm your student rosters accurately reflect how the year ended. When you close your year, the system captures a snapshot of your account as it is when the year is closed. Any students that you want to be included in the year close must be active in the Roster in their correct classroom.

Please do not make any updates to your roster for summer programming or the upcoming school year until after the year is closed. This means you should not add new children or move students to their new rooms until the year is closed.

Finally, while you will be able to access reports after the year closing (determining report access is actually one of the steps of closing the year), we recommend administrators, directors, or teachers export key reports for their records. This will ensure that you can access the data while the year closing process is going on.
How to Close the Year
To get started log into your account > go to Settings > select Period Settings > select the button to close your school year, located at the very bottom in red.
Please note that this button is only visible to users in your program with the highest account level access. As a reminder, only the highest-level users will be able to close the year. If you have several users at the same, highest level, make sure to determine which user will be actually closing the year and if you do not see the button from your end, there is most likely a higher-level user in your account.
Starting the Wizard
When you click the red button, it will open the year closing wizard.
The first screen will take you through all the decisions you can make to close your program school year. Before starting the actual process, it will ask you to confirm a few things.
First, that you understand that the year closing process is permanent and irreversible once completed. After this process is finished, any data from your previous year cannot be altered anymore, and any decision you made during this process regarding your data cannot be reversed once it's been completed.
Second, if you are the highest level user and you are doing this, this is going to affect everybody in your account. It is important that you check in with ALL of your users (administrators, directors, and teachers) to see if they are ready for the account to be closed.
Finally, due to the reasons above, please make sure that you are authorized by your program to initiate and complete the year closing process. If you have any questions, please don't hesitate to reach out to our support team at help@kaymbu.com

.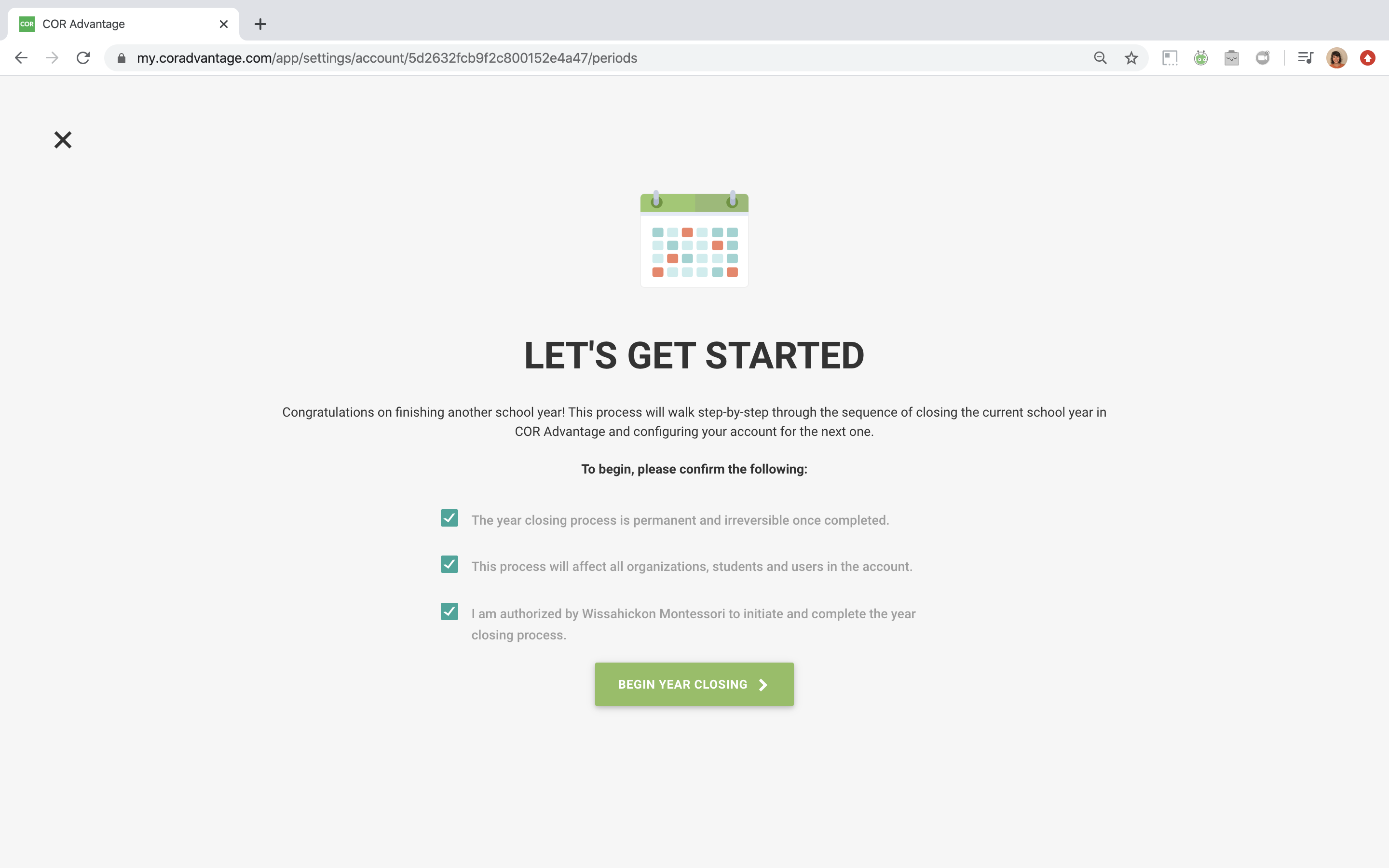 What are your options going to be throughout this process?
The first screen will take you through all the decisions you can make to close your program school year. Depending on what type of data you are making a decision for, you will be presented with different options regarding how you would like to handle that data. Please see below for the list of options you may be presented with and what each of those options means.
Keep - When you select keep, the data will stay exactly where they are.
Remove - Remove the data from the account, but they will still be accessible in some ways and will be retrievable for generating past reports
Delete -Delete the content and make them permanently unrecoverable. Unlike the remove option, the data will no longer be accessible and will not be able to be retrieved. Kaymbu is not able to recover deleted content so please be confident that you want that information fully wiped before you select delete.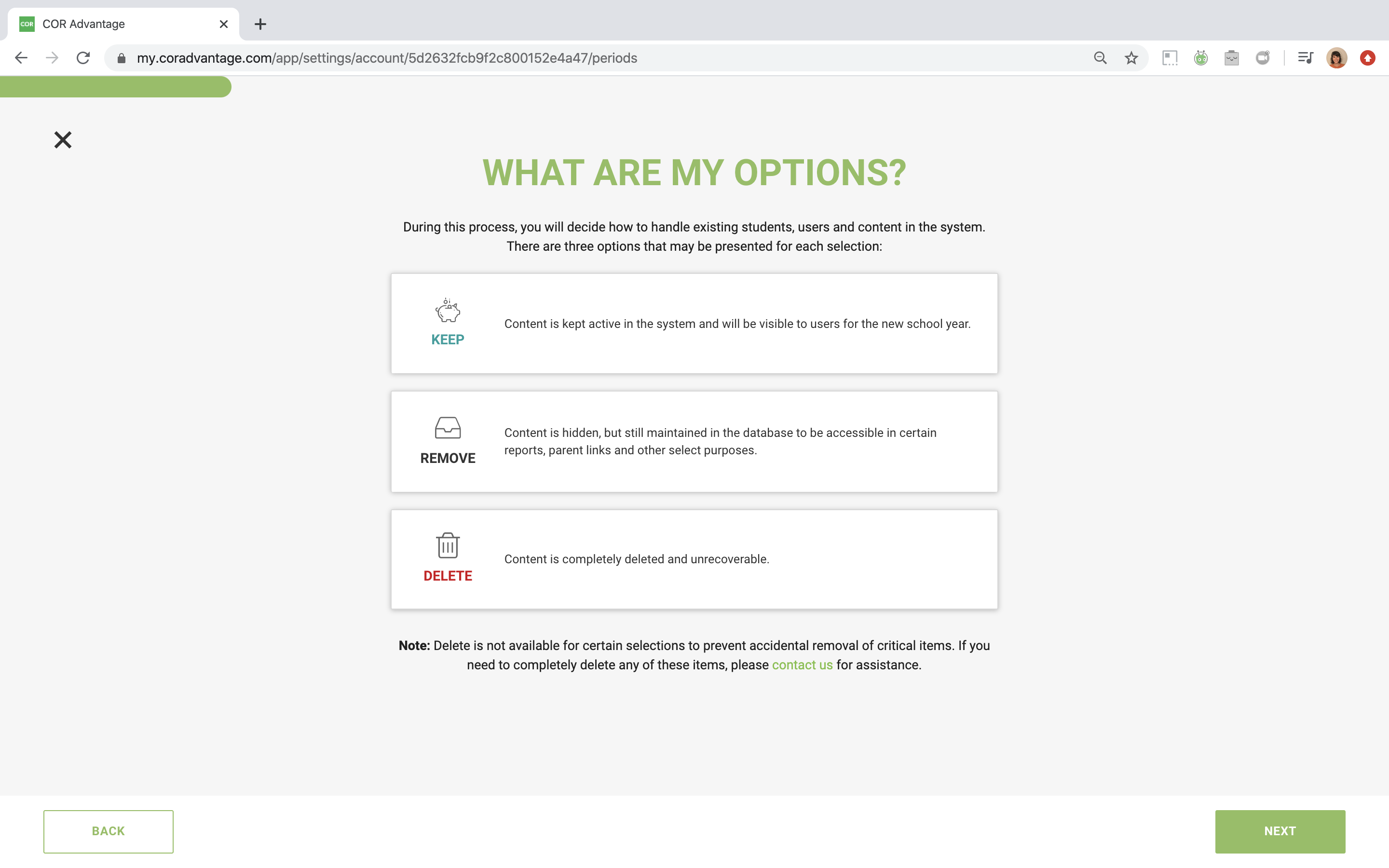 Students
If you have any students that are staying in your program for the next school year, we recommend keeping the students, and then after the process is over, you can go back to the Roster to archive the specific students that are leaving your program or to move the students that are moving classrooms!
If you choose to remove them, all of your students will be completely removed from your account so that you will start with a blank slate. Their data is still going to be accessible for reporting purposes, but their profiles are going to be completely removed from your account.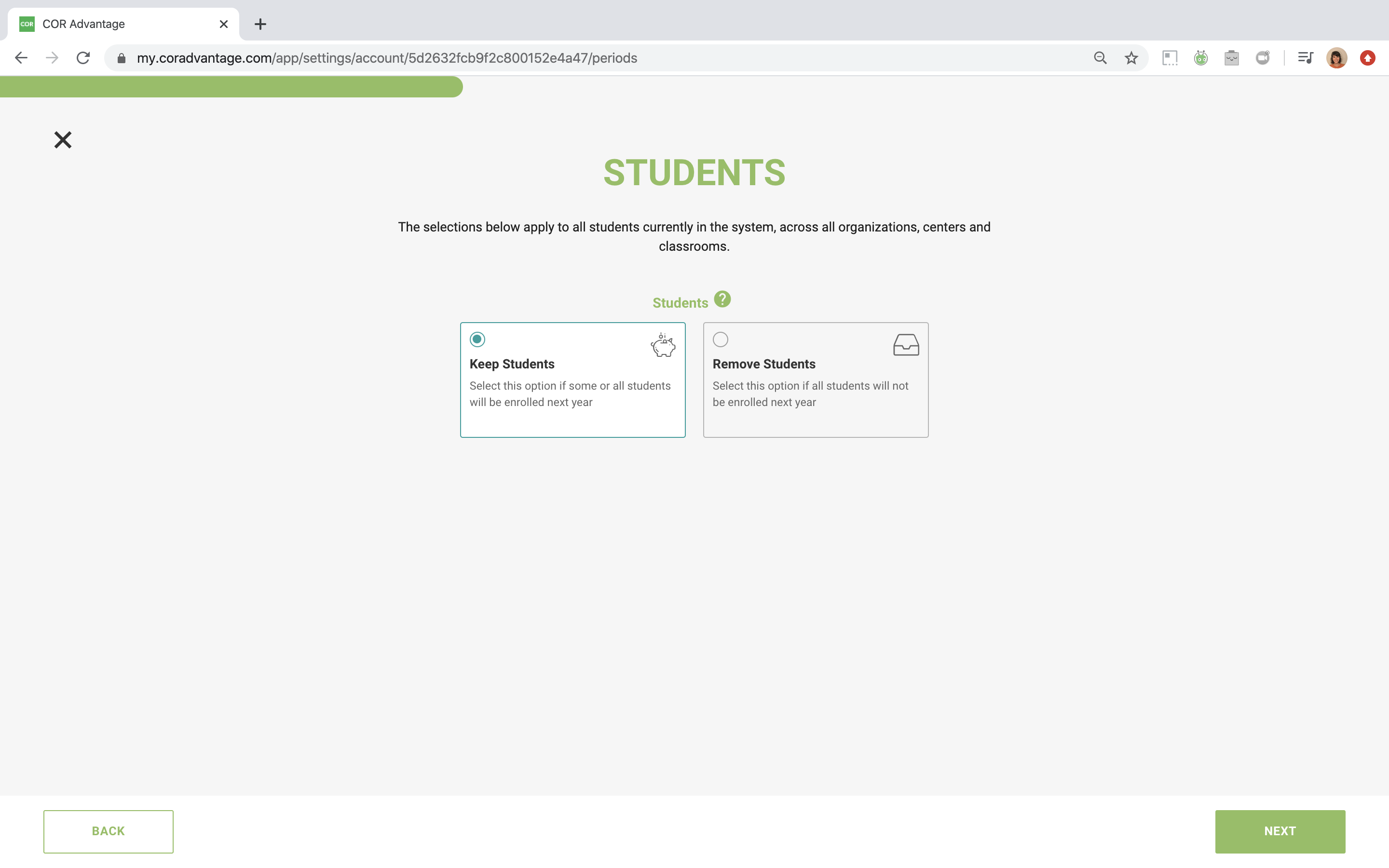 Content
Your Moments are photos, anecdotes, or video observations and your Storyboards are the dynamic documentation board feature your teachers and administrators have been using to build lots of engaging content for your families.
You have the option to keep the content so that it is accessible to teachers next year. While Moments will be locked and cannot be edited, Teachers will be able to edit and reuse their Storyboards. Any observations in the Moments page from a closed school year will be locked and will not be editable anymore.
Alternatively, you can also remove all moments and storyboards from your account by choosing the remove option. The scores and data from your observations will still be accessible via the Reports feature, but you will no longer be able to reference specific observations on the Moments page if Moments are removed.
The Messages option refers to the data in your Sent Messages Report. You can choose to keep the records, or remove the records and start fresh again for the next year. Please note that once records are removed, they will not be retrievable anymore!
Daily Note - You may use our connected Daily Note app which has daily sheets functionality such as diaper sheets and nap times. The Daily Note Report will also keep a record of everything the teachers are logging in to that app. You can opt to keep or delete the Daily Notes.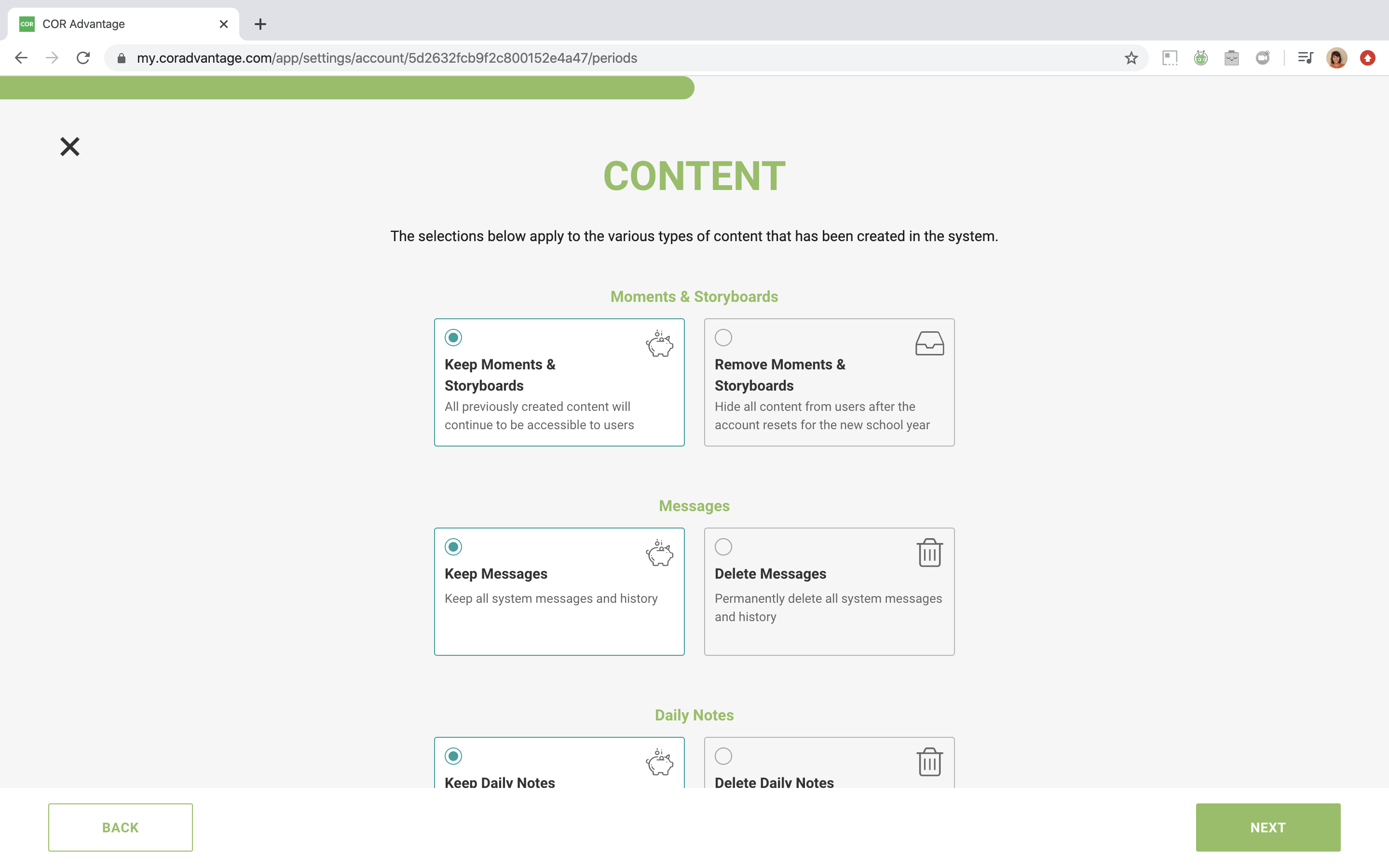 Users
In Kaymbu, there are several levels of users: account managers, administrators, directors, and teachers. Just like the students, you have the option to keep all of your users or delete all of your users. Again, if you have any teachers, directors, or administrators returning for next year, we recommend keeping the users, and then removing users as needed.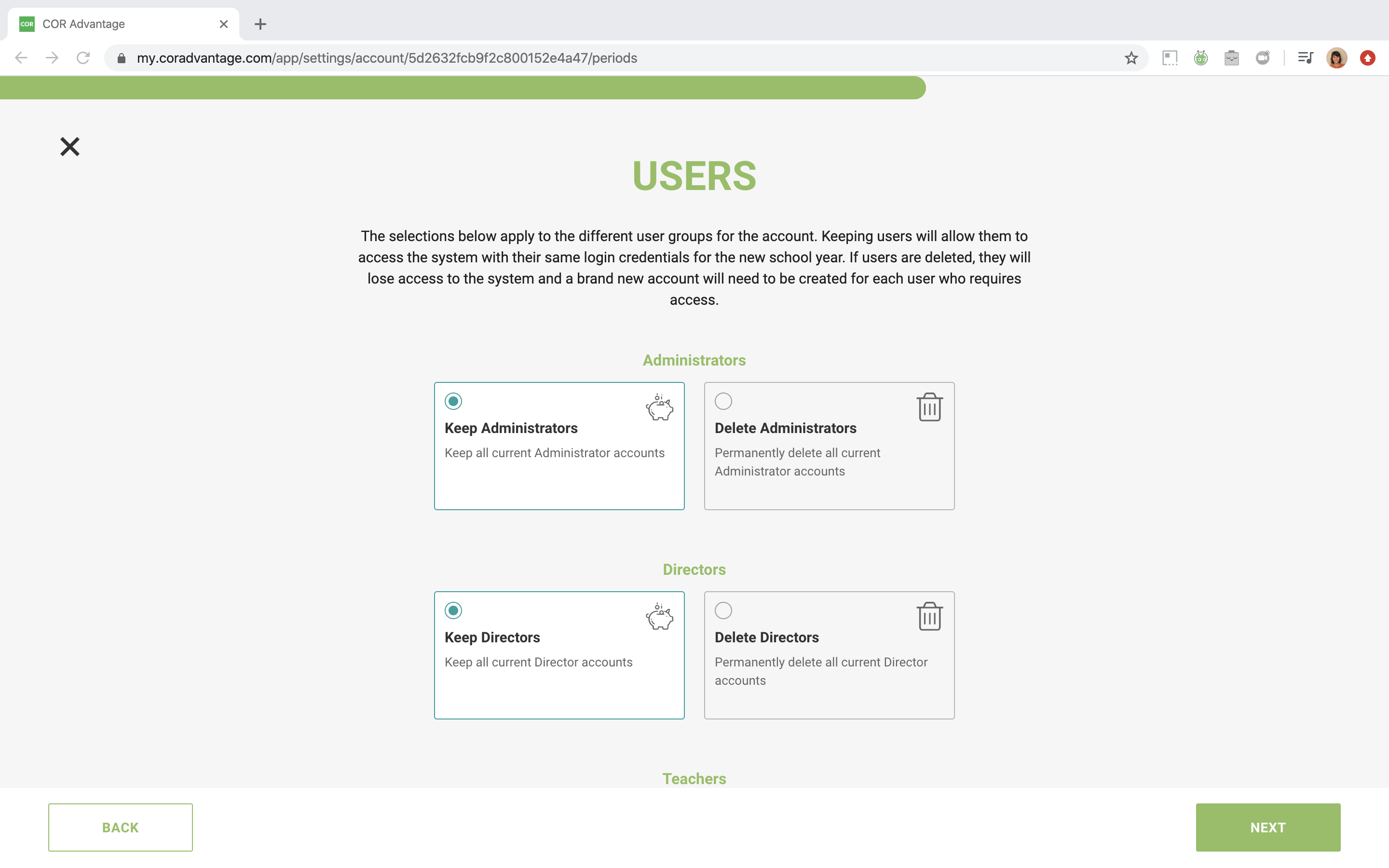 Next is an important question regarding which of your users will have access to data from the previous year.
Any user can access the Data Export for the current year at their level, but in this section, you can determine if users can access the previous year's records. Click the checkbox by each user level to give that user access to the data after the year is closed.
You also have the option to anonymize data, so if you would like to remove the student names from the export data from the past years, you can check this box. The Data Export will then just retain the demographic information and scores but hide the names.
Review
Finally, you can go to the review page to make sure everything you selected is what you want to finalize.
If you need to make any changes, you can click edit and it will take you back to that specific part of the wizard. When you click next, you can go back through the process again and the system will return you back to the review page.
If you are happy with the way things are now, you can select the confirmation checkbox at the bottom.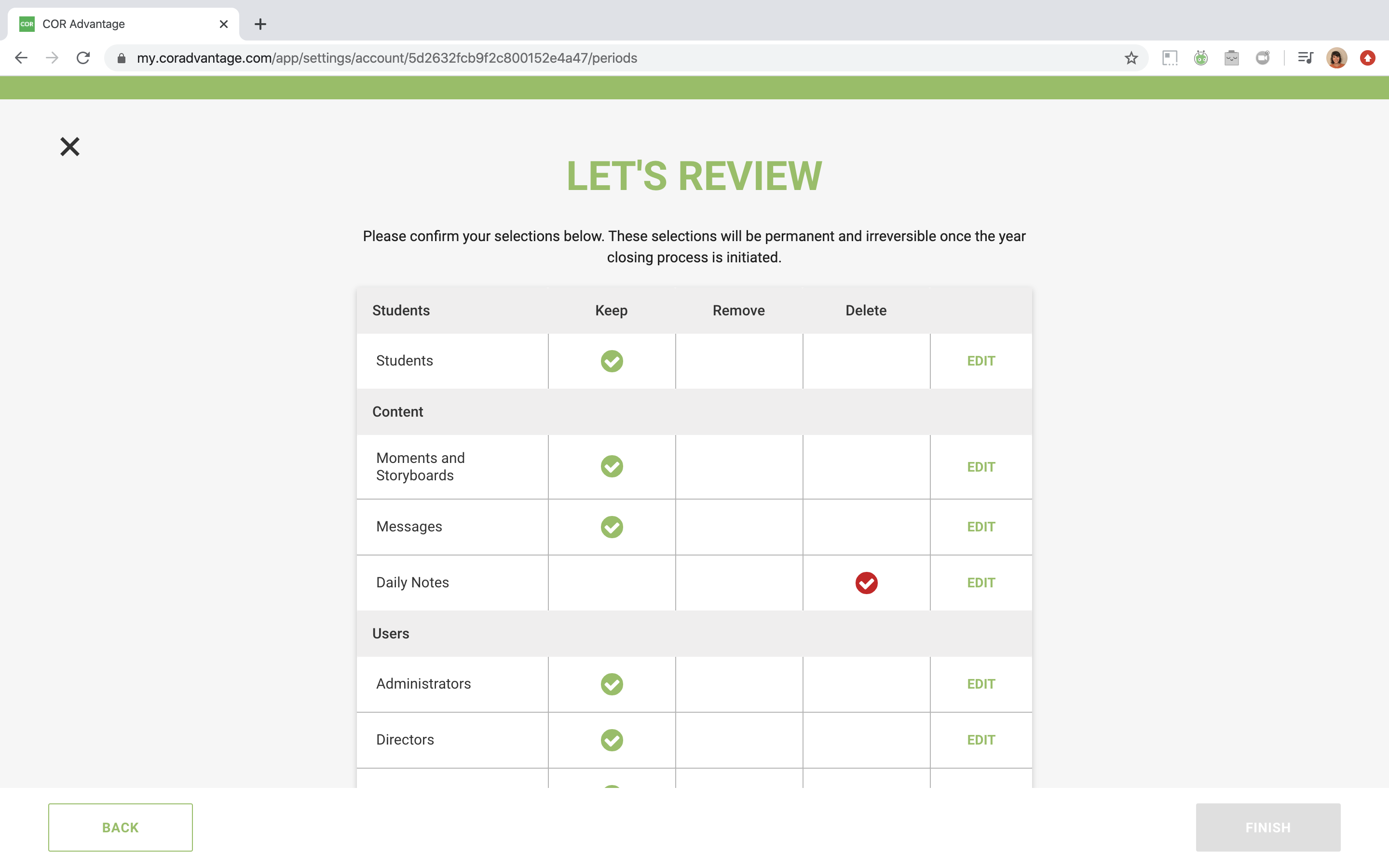 Afterward, to close out the year, you will have to type the sentence that appears to confirm that you are intentionally closing the school year.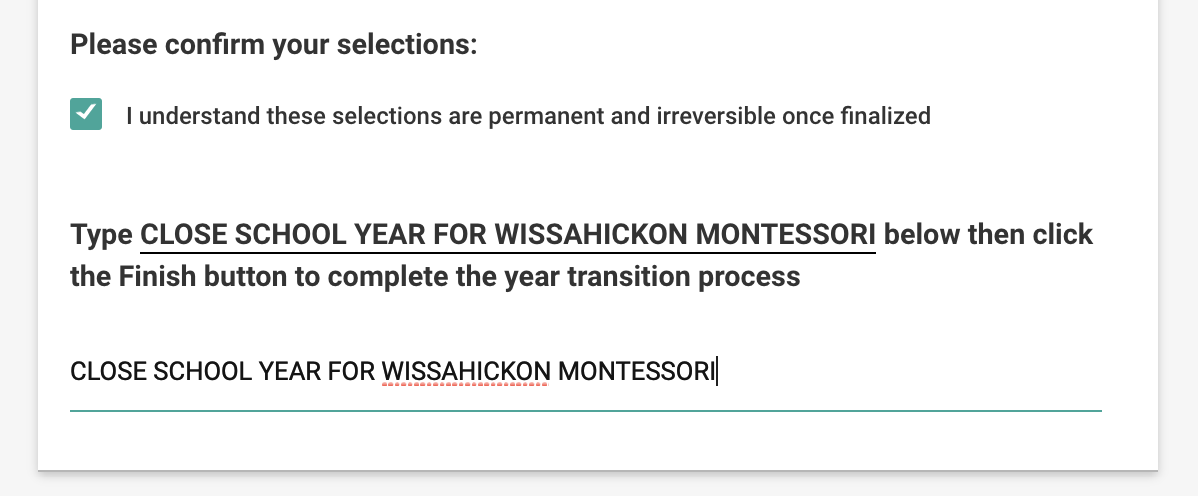 And then you will be able to click finish in the lower right-hand corner.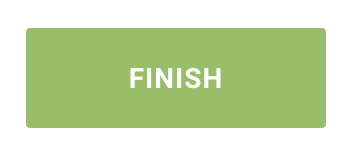 Once you click finish, our system will do all of the things you requested. It will delete the things you want to delete and archive things you want to archive. It will also reset your periods now that you are getting ready for a new school year. This can take up to a couple of hours depending on the size of your account.
Afterward, the wizard will take you back to your Period Settings where you can name and create your next school year!
Video Tutorial for Year Closing
Watch the video below to see the steps of how to close your school year in COR Advantage.