The Roster is where you set up your administrators, teachers, students, and even family contact information! Below you can learn how to:
Add Administrators
Add Teachers
Add Students
Add Family Contact Information
Administrators
Kaymbu and COR Advantage define three levels of administrator access:
Account Managers have access to all of the organizations within an account.
Administrators have access to all of the centers in an organization.
Directors have access to all of the classrooms in a center.
Please note that:
Your account may not have all of these levels. E.g. at a one-center program, the highest level of access would be a Director.
An administrator can add and edit users at their level and down, but not above. E.g. an Administrator can add and edit other Administrators, Directors, and Teachers, but not Account Managers.
To add a new administrator to your account, navigate to Menu > Roster, and then to the Organizations page for Account Managers, the Centers page for Administrators, and/or specific center for Directors. After that, the process is the same! Click on the tab at the top of the page, then select the green circle plus button to add a new user.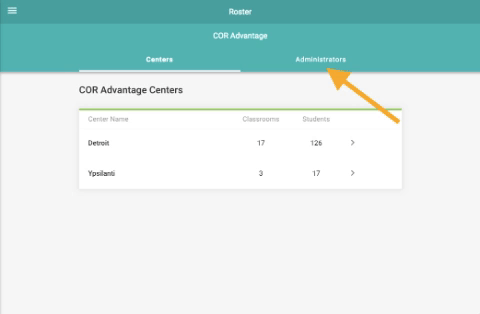 You can click into a user profile at any time to update the information! Just click on the edit (pencil) button to update the email address or password.
Teachers
Any administrator can add teachers to their school account! Select the appropriate classroom, then navigate to the Teachers tab at the top of the page. Click on Add Teachers, or the green circle plus button, then enter the teacher's information.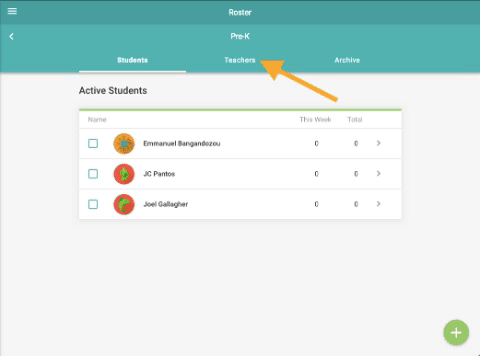 You can also edit, move, or delete teacher accounts by clicking into the profile.
Please note:
Teachers can create other teachers in their classroom, so you can add a lead teacher yourself, then have him or her add the other teachers!
Some programs choose to have one login per classroom that all the teachers share, e.g. infantsclassroom@greatjourneys.com. Other programs have separate logins for each user.
If you choose to take advantage of our new, integrated family engagement features, it's important to know that families can never see an administrator or teacher contact information! They will see that the information is from the classroom name or administrator name.
Students
Any COR Advantage user, administrator, or teacher, can add students to your school account. Simply navigate to the appropriate classroom, then follow the same steps as you would to add any other user: click Add Students or the green circle plus button.
Family Contact Information
Once a student has been created, you can add as many family members as needed to their profile. Click on Add Family in a student's profile to include a new contact to his or her profile.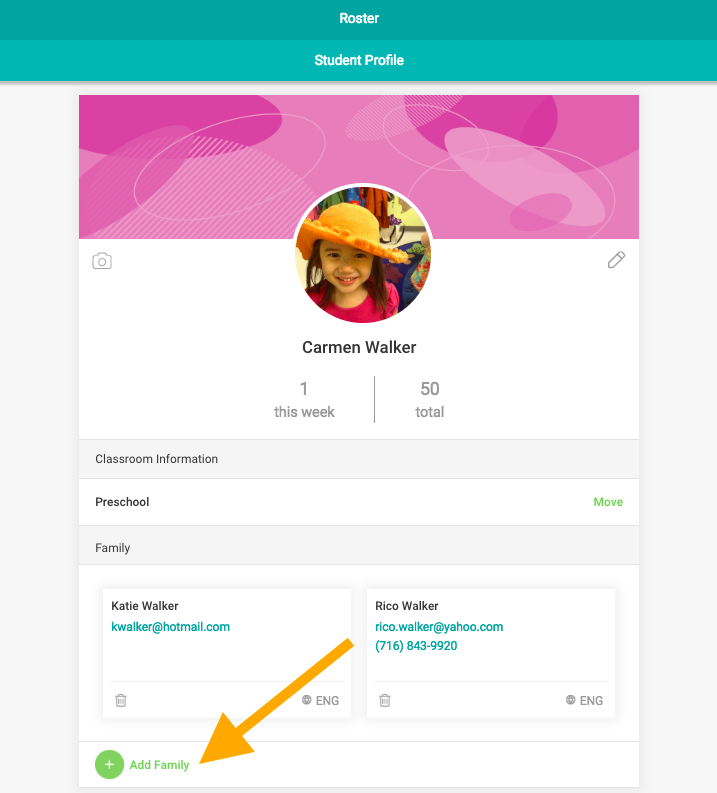 Family members can be set to receive emails or text messages. Please note that once a family member has been added, he or she will start receiving anything that the teachers send out of the system. You may want to wait to add in family contact information until you've had time to plan how you want to communicate with your community using Storyboards, Moments, and Messaging!