What types of Reports are available on Kaymbu?
Kaymbu offers a host of helpful reports for both Kaymbu and COR Advantage users. Kaymbu offers reports designed for Family Engagement and System Usage, whereas COR Advantage reports also include Growth & Planning and Staff Development. In Reports, you will find easily accessible and digestible information about your students. With just a few clicks, important data can be accessed by teachers and administrators at any time!
Table of Contents
Accessing Reports
You can access Reports from the Kaymbu or COR Advantage app on your device or from the website my.kaymbu.com by going to Menu > Reports. After selecting Reports, Kaymbu users and COR Advantage users will see different options available to them. All of Kaymbu's reports are also accessible to all COR Advantage users. COR Advantage reports include additional reports for the Assessment.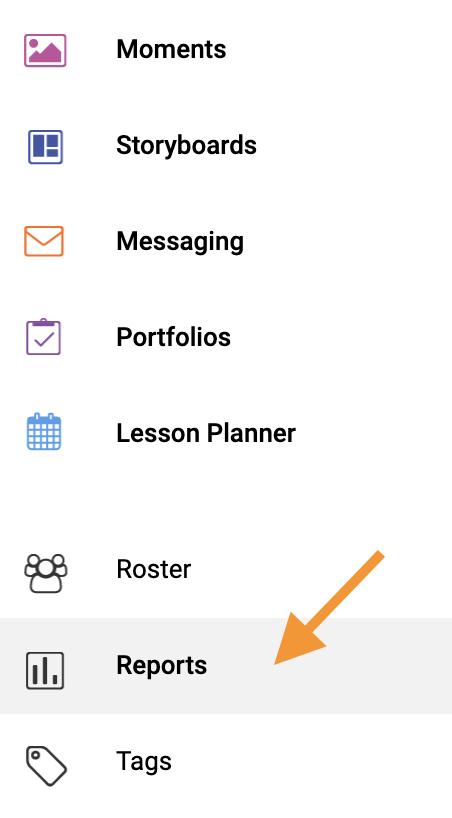 Reports for Kaymbu Users
Kaymbu offers a host of reports designed for Family Engagement and System Usage. You can find the list of reports available as well as a brief description in the image below: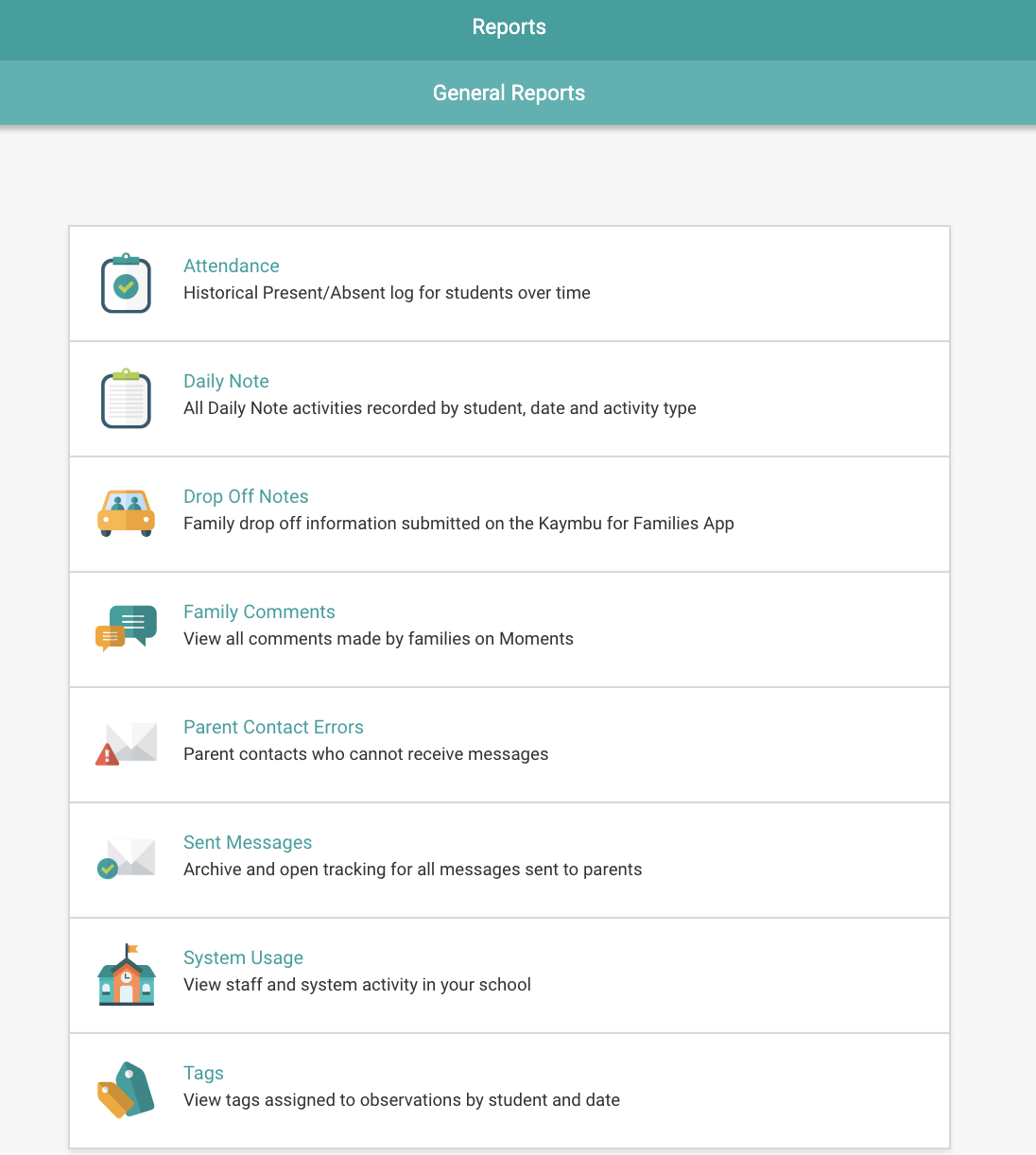 You can also learn more about some of these reports in this short video below:
Reports for COR Advantage Users
COR Advantage users have access to the same reports in Kaymbu as well as additional reports for Growth & Planning and Staff Development. The video below provides some additional information about how you can guide your instruction with COR Advantage Reports.
Report Features
Reports are designed with some additional helpful features. First, when you click into any report, you will notice a question mark at the top, next to the name. Clicking this question mark will open up a description of the report, providing you with more information about the report itself, such as in the example below.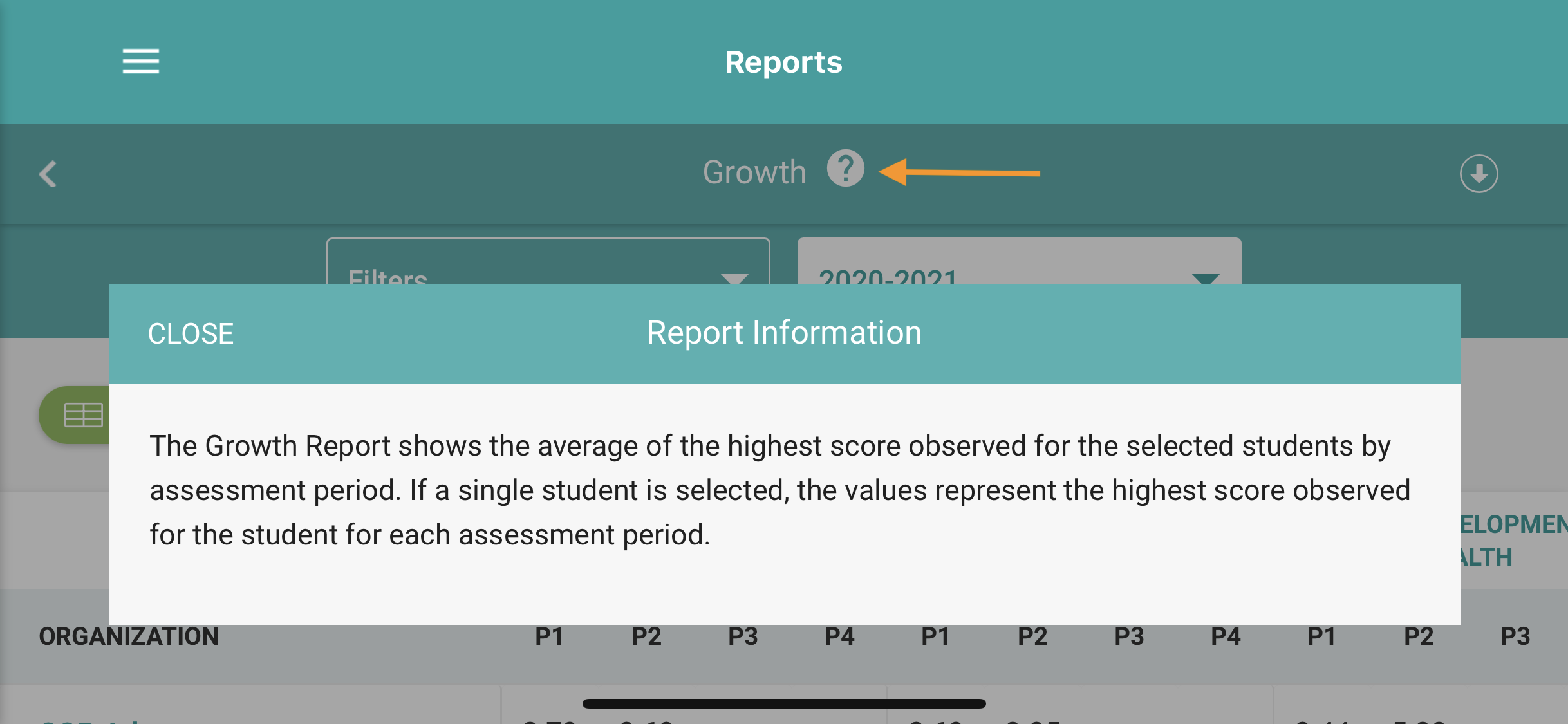 Filters
Beneath the names of the reports, you will find different filters available. Depending on the report, the filters can include Students, Periods, School Year, and additional Student Fields or Data Sets. Use these filters to help sort your data to meet your needs!
Matched Data Sets
Matched Data Sets are a data set filter that will exclude any data for students that were not active during the current school year. This filter is typically used at the end of the year to provide a holistic picture of how students are doing that have been enrolled in your program for the entire year. Students that have at least 1 scored item for each period of the current year will be included in the filter. Matched Data Sets are available on the Benchmarks, Growth, Head Start Alignment, Performance, Progress Overview, School Readiness, and Strengths & Opportunities Reports.
Materialized View
Typically, the reports in Kaymbu provide real-time data, however, depending on the amount of data in your account, some reports will include a materialized view. Materialized view means that the data included is not real-time but instead, shows data from its most recent update. Reports with a materialized view are updated daily at 3 AM ET and will be indicated at the bottom of the report with the following message:

Downloading and Printing Reports
Reports can be exported by downloading or printing them. To download or print a report, navigate to the right of your screen and select the applicable icon. The download icon is the circle with the arrow and the print icon is of the small printer, as can be seen below.