What are Family Reports?
COR Advantage powered by Kaymbu provides two types of Family Reports that incorporate the data teachers have captured for the COR Advantage assessment, the COR Advantage Portfolio, and the 1-Page Summary. Both of these reports can be viewed, shared, or printed directly from the Kaymbu system.
Table of Contents
Generating and Sharing Family Reports
Generating either a COR Advantage Portfolio or a 1-Page Summary takes just a few steps in the Kaymbu system. From your Assessment Dashboard, click on the student's profile image to view their overview page.
Here are a few things to take note of before you generate a family report:
You can view the completion progress for this individual student on this page. It is not a requirement to have 100% progress or all documentation entered in order to generate a family report.

Adding a "Summary" comment is optional. This would be a wonderful place to enter goals for the student or reflect on the child's overall progress. The information you include here will display on the cover page of the COR Advantage Portfolio and at the bottom of the 1-Page Summary.

To view or edit the automatically generated category comments, click "Start" on the desired category. Here, you will be able to see a comment that has been created based on the indicators or scores you chose for each of the items in that category. If you would like to edit the text at all, simply tap "Edit" and revise the comment. If you change your mind, you can easily go back to the automatically generated comment by clicking "Reset."

When you are ready to generate the report, you have three options, all of which can be found at the top right corner of the screen - View, Share, or Print.

When you click on any of these options, you will be able to choose the type of report and the observation layout. After that, the option you have selected will automatically begin to generate according to your specifications!*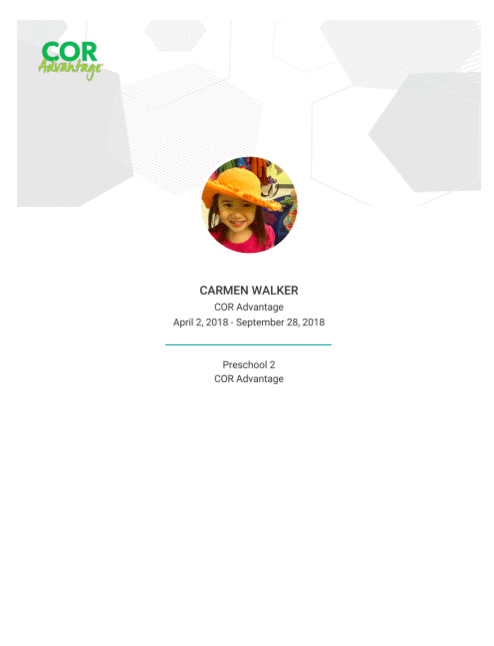 When generating the 1-Page Summary Report, you will have the option to select which graph view you would like to display. These options include Percentiles, Average Scores, or No Graph. You can learn more about each of these options by clicking here.
*Please note that you can save your family report as a PDF by choosing the print option and selecting "Save as PDF" for your printer destination.
Translating Family Reports
Family reports can be translated into over 100 languages! To translate the Family Reports, use the language menu on the selection modal, as shown here: