Overview of Family Reports
COR Advantage powered by Kaymbu has two Family Reports that show student development and progress, the COR Advantage Portfolio Report and the One-Page Summary. Both of these reports compile tagged teacher observations into student-specific reports that can easily be shared with families. Additionally, Kaymbu offers a custom report that you can learn more about here.
Table of Contents
COR Advantage Portfolio
The COR Advantage Portfolio is organized into the eight COR Advantage learning categories and provides you with the option to include observations that have been captured within that period. You have the option to select all observations, highest scored observations, or no observations. The report includes auto-generated comments about the student's development based on the scores from the COR Advantage items.
On the COR Advantage Portfolio, you will first find the Cover Page, including the student's name and picture and the assessment date range. You also have the option to include a comment summarizing students' development and growth. You can learn more about adding comments to the portfolio's cover page here.
Within the COR Advantage Portfolio are the COR Advantage items and a description of how students generally develop in this capability. This is followed by the categories and comments, which include auto-generated comments based on the scores or indicators from the COR Advantage items. Finally, based on your selection, you will then find the observations.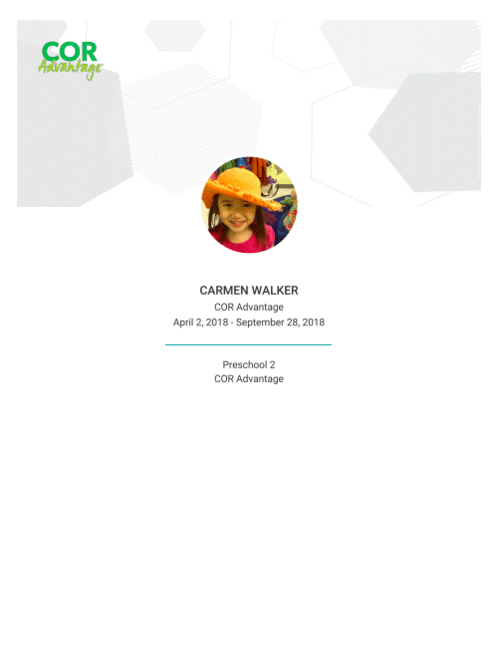 1-Page Summary
The Student 1-Pager synthesizes student development into a concise one-page summary, including the student's percentile performance, areas of strength and areas of growth, and a summary comment. Within the areas of strength and growth, there is a brief description of what the student is currently doing, as well as a statement for what is next developmentally. This is helpful to provide families an idea of where their child currently is while also providing them with specific examples to look for moving forward.
The report is broken up into a few different sections. At the top of the page is the student's information, including their program and classroom name as well as the school year.

Below, a graph shows the student's percentile performance across the eight COR Advantage learning domains compared to students across COR Advantage within a 3-month age range.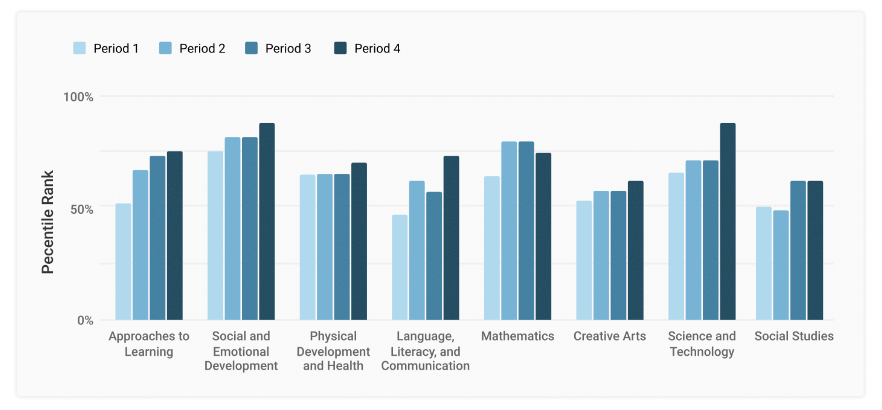 The third component of the report is the student's areas of strength and growth. On the left, three of the student's strengths are listed. The three strengths are the COR Advantage items the student earned the highest score in the selected period.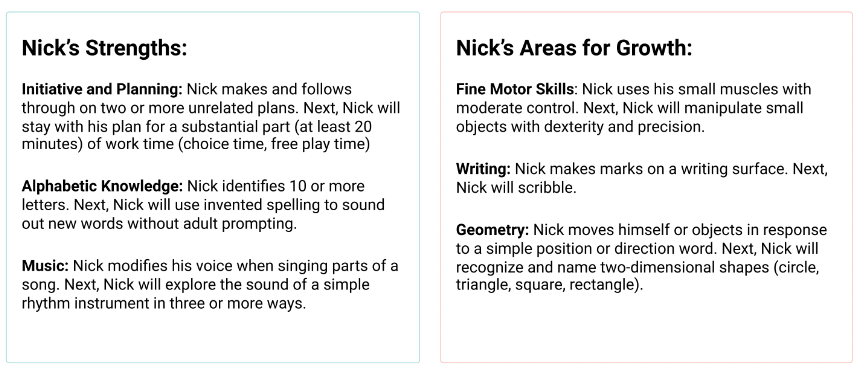 Last, the fourth section of the report lays out the students' summary comments. If a teacher added a comment in the summary section of the assessment, the summary comment will appear at the bottom of the report, as shown below. If there is no summary comment, this part of the report will not appear!