What are Tags?
Tags are a customizable tool to track learning and development. Tags can be created in your account and added to the Moments you post to organize your data in a variety of ways. You can use tags for learning standards, IEP Goals, classroom values, project documentation, student goals and so much more! Including Tags in your observations will make it even easier for you to repurpose your documentation into other features of the system. Tags are also to increase family engagement because tags can help attach even meaning for families as they can help bridge the link between the photos you share and the learning and development that is occurring!
Table of Contents
Accessing Tags
You can access Tags from your device or from the website my.kaymbu.com
by going to Menu > Tags.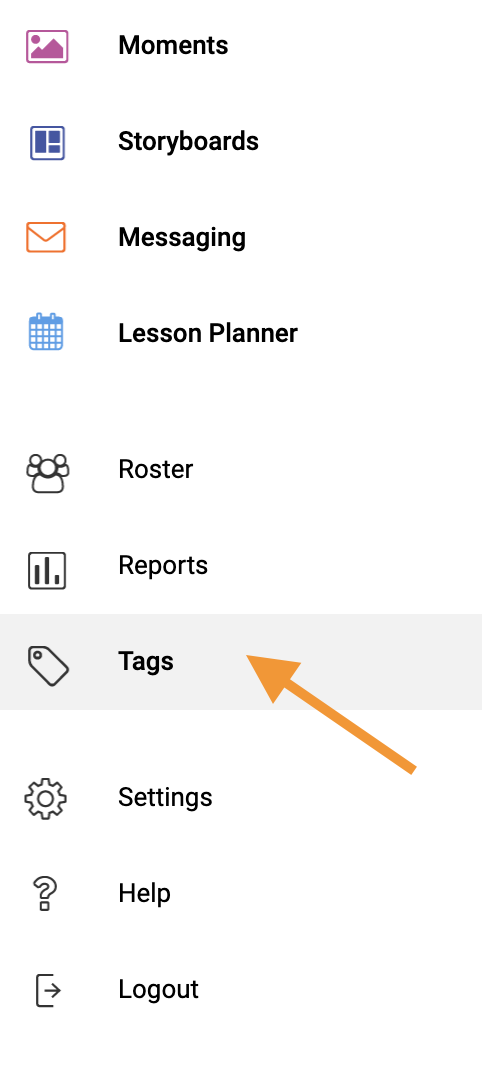 Overview of Tags
There are two types of Tags that can be managed on the platform: My Tags and School Tags. There are also some tags that are set at the platform level, like the COR Advantage items. These are managed by the Kaymbu team and cannot be edited by program administrators.
My Tags
My Tags are tags that are unique to your access level in COR Advantage. They are tags you can create and manage to organize your observations. It's important to note that My Tags are unique to your access. For example, if I'm a teacher in Classroom 1, the other teachers in that classroom also have access to My Tags and can edit and use them. However, a teacher in Classroom 2 cannot see my tags or edit them.
Teachers and Administrators can create their own Tags and that framework applies throughout the system. If I'm a Director and create a set of My Tags, only I and other Directors within my center can access them. Teachers below me or Directors at other centers within my account cannot see the Tags. My Tags are unique to the users within the entity where they were created.
School Tags
School Tags flow down from the level they were created at. School Tags are designed for programs to create a standard set of tags available across the account. A Director might create a set of School Tags, which will then be available to the other Directors and to all classrooms within the center. It is important to note that School Tags are available but cannot be edited by users below the creator. For example, if a Director creates a set of School Tags, the teachers in the center can access but not edit them. However, other Directors at that center could edit the tags.
If you have any particular questions about setting up Tags in your account, and who should have access to them, please reach out to us at help@kaymbu.com.
Components of Tags
The different components of tags allow users to customize them in many ways! The components include the folders and subfolders, tag descriptions, and rating scales.
First, if you're creating a set of tags, you will likely want to organize them within a folder, and even subfolders if appropriate. Please note that there are no limits to the number of folders, sub-folders, or tags you have within a folder. You can create as many of each that you need!
For each tag, you also have the option to include a description of the tag. And last, you can add a rating scale to your tags. You might set the same rating scale for each tag within a folder and simply make the ratings "approaches, meets, or exceeds" or "never, sometimes, usually, and always" depending on your needs. Or you can opt to exclude the rating scale entirely!
You can learn more about creating tags (with helpful screenshots!) here!
Sharing Tags with Families
Families can see the tags you include on the Moments you send to them. When they receive a Moment, they will see the tags included down below. Including tags with family communication is a great way to highlight how student activities and play can translate into learning. Just like in the example below, Tags can show families how an activity about drive throughs can also be developing specific skills!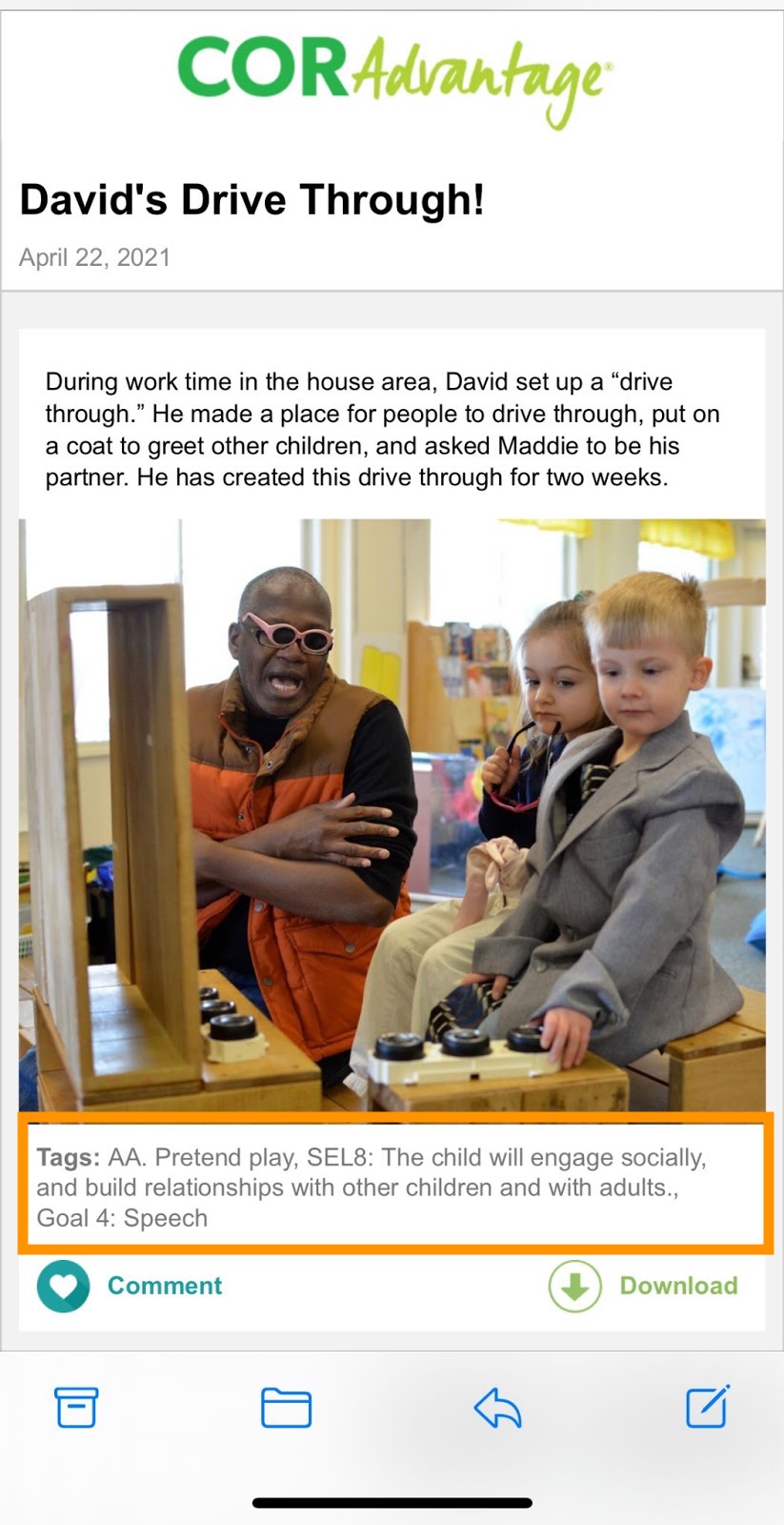 Please note that including tags in your family communication is a feature that has to be enabled through your settings. To learn more about how to include tags in your sent moments, click here.
Tags Report
The Tags Report enables teachers and administrators to compile data on the tags in their accounts. This is a powerful tool to analyze the usage of tags. You can learn more in the Tags Report article.