What are Messaging Settings?
The Messaging Settings enable you to customize how information is shared with families from your Kaymbu account.
Table of Contents:
Accessing Messaging Settings
You can access the Messaging settings by navigating to Menu > Settings > Messaging, and you will have the following options (as shown below):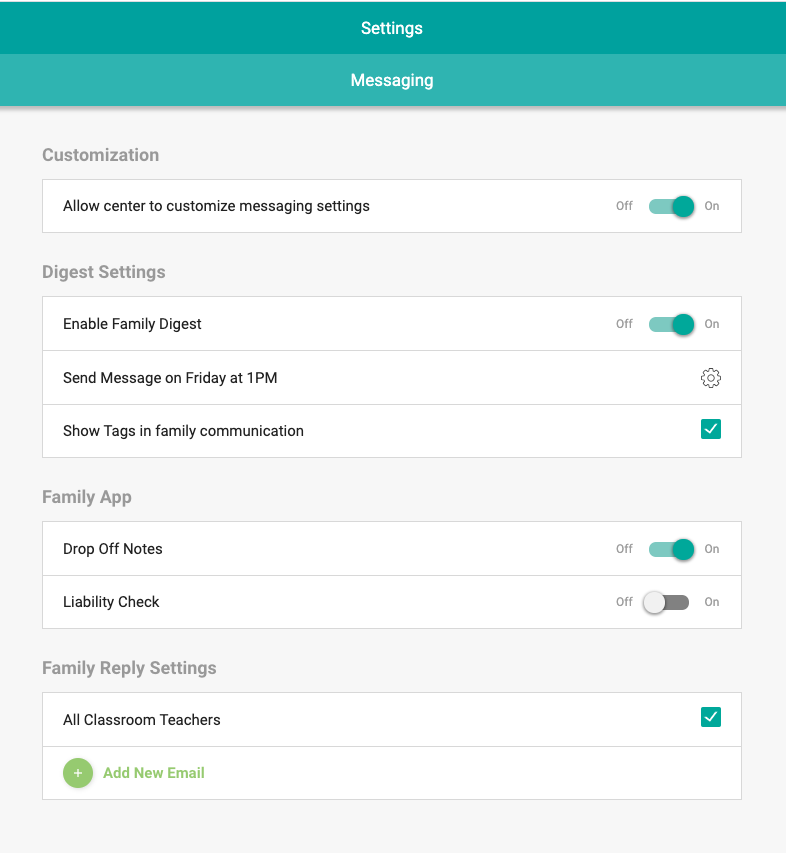 Customization
With this setting, you can configure whether or not you'd like to allow users with lower access than you to further customize their own family communication preferences. If everyone within your program should have the same preferences, you'll want to slide the customization toggle OFF. If classrooms or centers within your program have different family communication preferences, it's important to leave the customization toggle turned ON. You can still set default settings, but users a level below you will be able to edit them to fit their needs.
Digest Settings
The digest is a wonderful way to communicate with families on a consistent schedule. The digest is designed to send families a collection of all observations teachers have connected to their child's profile since the previous digest was sent. Many teachers choose to schedule a digest to go out once a week, generally on Fridays. Others prefer to have a daily digest go out at the same time each day. The decision is yours to make! When observations are sent to families, they'll only see the anecdotal notes teachers have written out. If you'd like them to see the learning standard tagged to the observation, check the box to "Show Tags on family communication." This is a great way to provide additional context to their child's learning!
Family App
In the Family App section, users have the ability to enable Drop Off Notes and Liability Checks in the Kaymbu for Families app. If Drop Off Notes are turned ON, families will have the option to add a note when dropping off their child(ren) for the day. The information from Drop Off Notes is published in the Drop Off Notes Report in the Kaymbu system. If Drop Off Notes are enabled, programs also have the option to require families to sign Liability waivers. To add a Liability Check, make sure that the Liability Check toggle is turned ON. You will need to enter your liability check language, which should be in the "I agree" format. For example, the liability check you enter may read "My child is not exhibiting any of the following symptoms: cough, sore throat, etc." It will appear in the Kaymbu for Families app as seen below: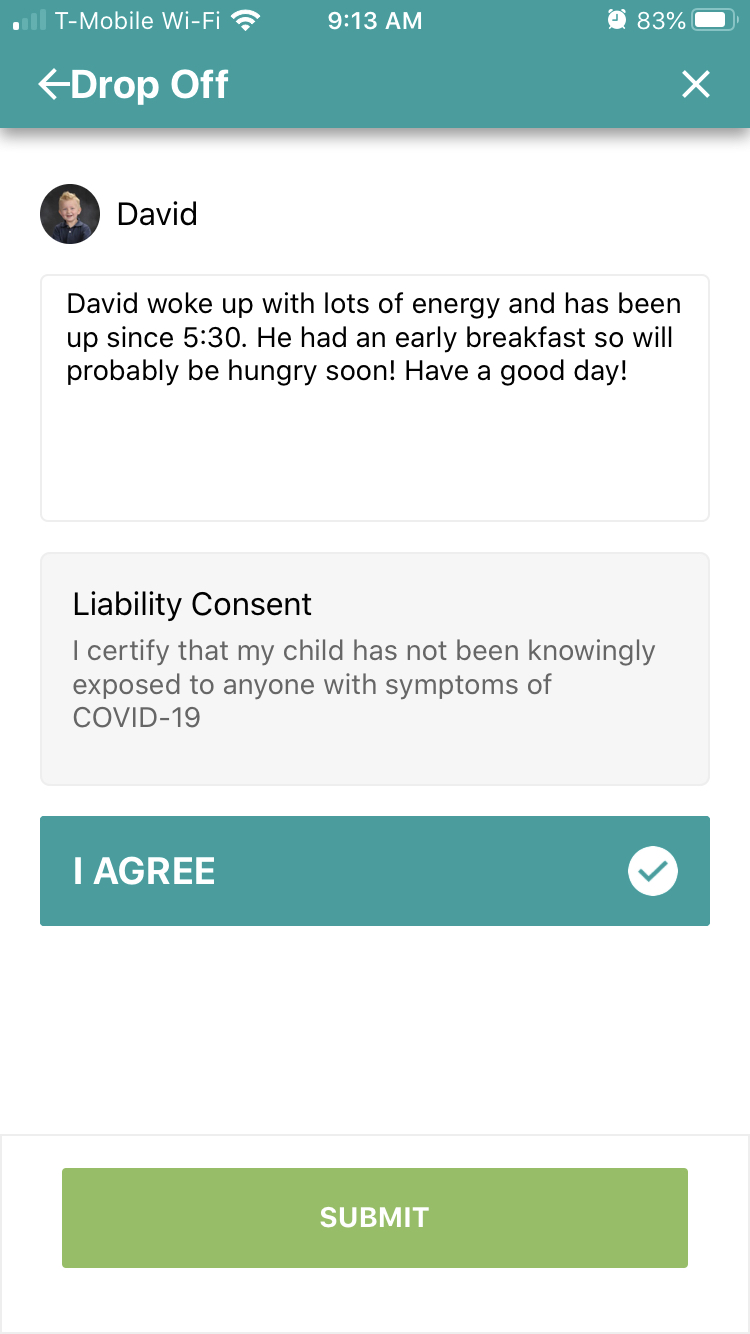 Family Reply Settings
When users send a message of any type from the Kaymbu system, the family members they send it to have an option to reply to the email they receive. The responses can be routed to whoever you'd like! By default, the responses will go to all teachers in the classroom which sent the message, but if you'd like to direct them elsewhere, uncheck the box for "All Classroom Teachers" and enter the updated email address!