What features are available on the Moments page?
Once observations have been published to your Moments page, there are still many options available to you! You can sort, edit, send and/ or delete observations. The Moments page also allows you to create collages, mark favorites, and export Moments.
Table of Contents:
Browsing, Searching, and Hiding Moments
The filters at the top of your Moments page will allow you to quickly sort your Moments and locate exactly what you need. You can sort by students, date, tags, status, or type!

If you want to hide information from previous years, you can do so by using the Date filter. Select the Date filter, enter the first day of the window you want to view, and check the box for "Set as Default Start Date." This is a quick way to hide your Moments from previous years as you prepare for a new school year!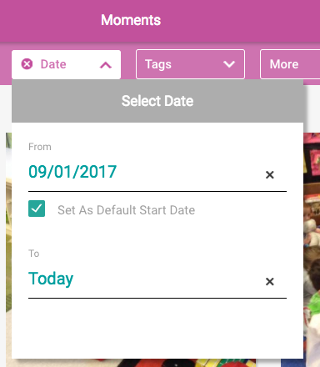 At any time, you can edit a Moment. Simply click on the photo on the Moments page and you will be able to change or add Learning Standards Tags, adjust which students are tagged, and edit the title and caption. You can also remove the Private filter, by clicking on the three dots in the top right and switching the private toggle, as shown in the photo below: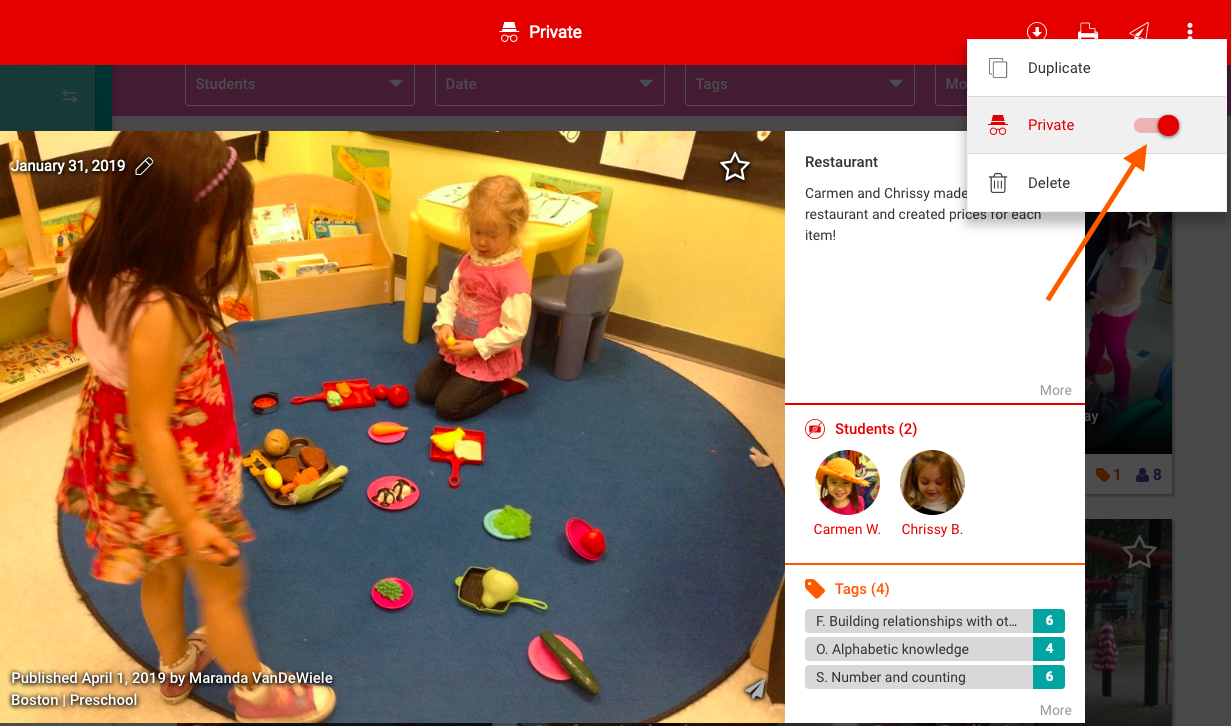 Ungrouping Moments
Bulk publishing is a great tool to publish multiple moments with the same tags and captions (think field trips or class projects). You can learn more about bulk publishing here.
Once you've bulk published observations as Moments, you might decide to break them apart at a later time. Perhaps you'd like to edit the caption or tag on just one of the Moments, or you've bulk published to save time and now need to tag individual students. To ungroup the Moments you've already bulk published:
Click into the group of Observations
Select the Ungroup All icon (see screenshot below)
Select Ungroup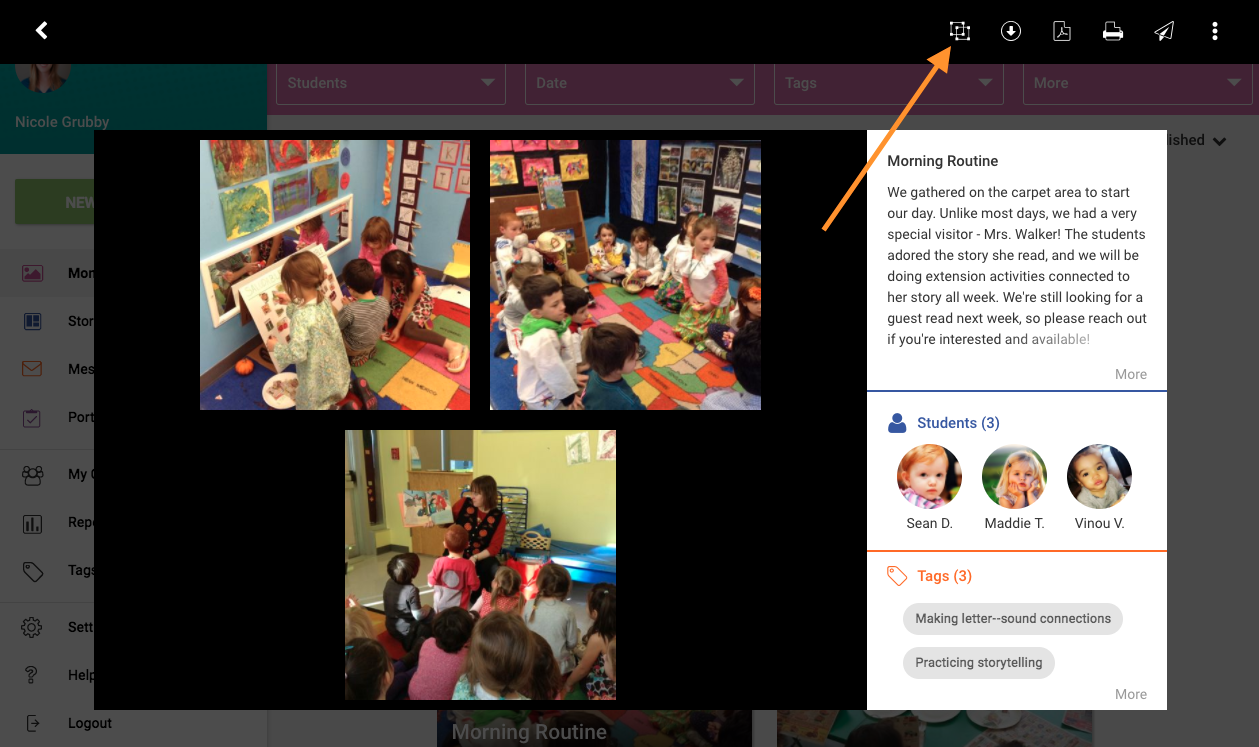 Creating Collages of Moments
Creating collages allows you to further group Moments into one photo! To create a collage, follow these steps:
1. From the Moments page, click on the Moments you'd like to include in your collage.
2. Open the Options Menu (three dots in the black toolbar).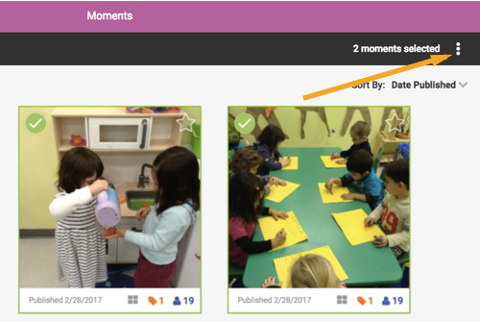 3. Choose the "Create Collage" option.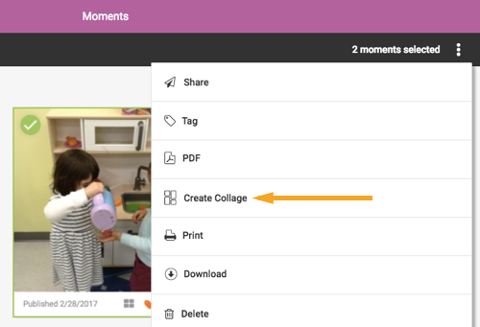 4. In just a few seconds, your collage will be ready as a new Moment!
If you need to export pictures from the Kaymbu system, you have several options to do so!
Print: Selecting Print will allow you to print the full-size images. If working on a desktop, a new window will appear for you to preview the photos and print.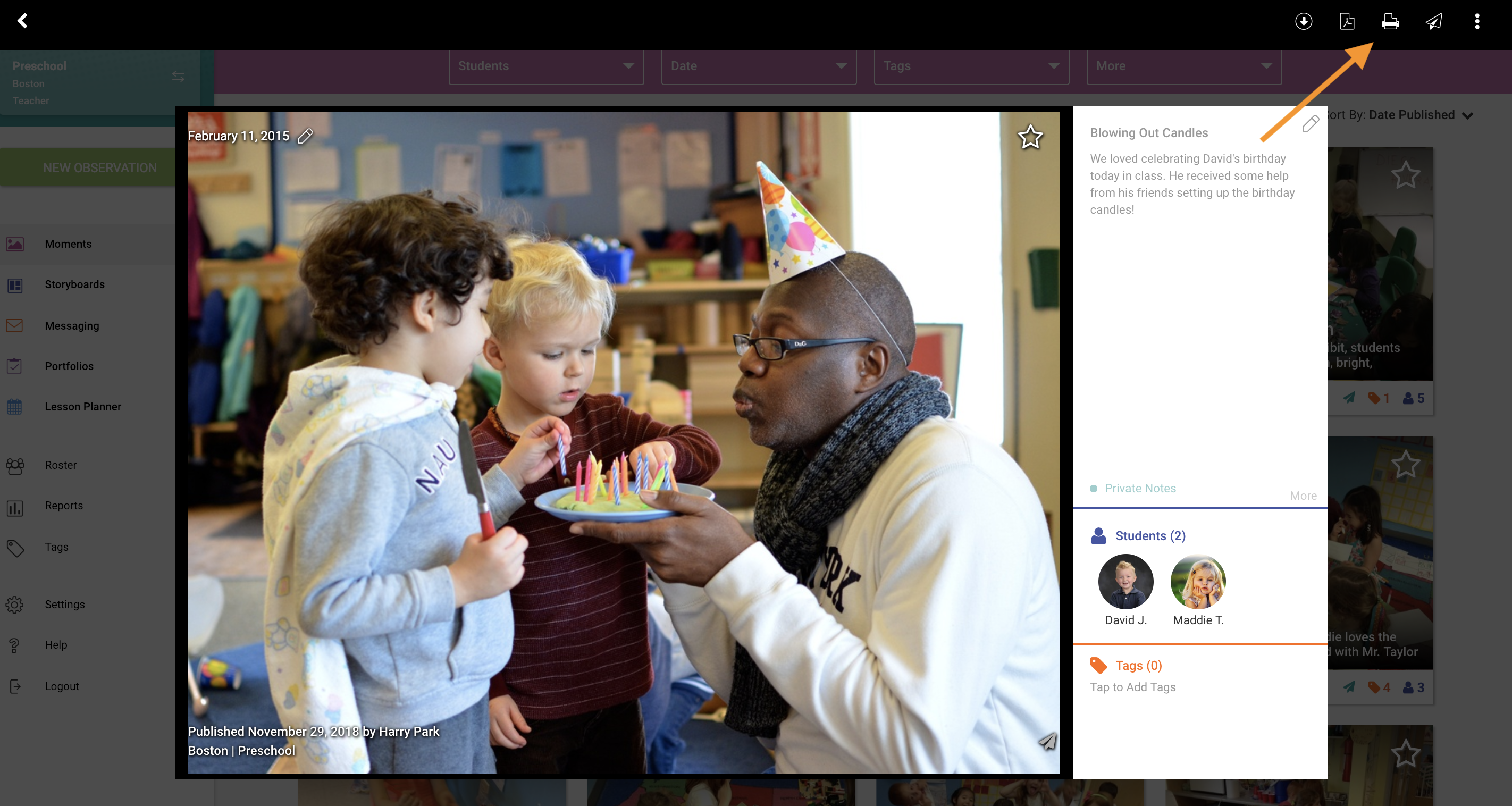 Download: Selecting Download will allow you to download the original high-resolution photos. If working on a desktop, the photos will download to your downloads folder, allowing you to work with them on your computer as needed. If working on a tablet or phone, the photos will open up in a new web browser window, and you can click on the images to "Save Image" directly to your camera roll.
PDF: Selecting PDF will convert all images, along with the anecdotal notes, into a PDF. The PDF will include the date captured, students tagged, learning standard tags, as well as any caption and notes the teacher might have included. Once the PDF has been created, you can directly print the content.
To create a PDF:
Go to Menu > Moments
Click on the Moments you'd like to convert into a PDF
Select the three dots in the black bar near the top of your screen
Choose the PDF option
Your PDF will open for you in a new browser page!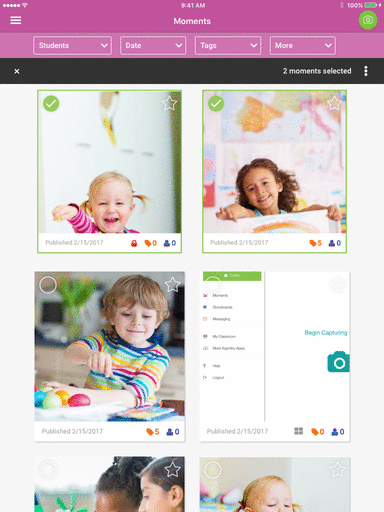 Video Tutorial