What features are available on the Moments page?
Once observations have been published to your Moments page, there are still many options available to you! You can sort, edit, send and/ or delete observations. The Moments page also allows you to create collages, mark favorites, and export Moments.
Table of Contents:
Filters on the Moments Page
The filters at the top of your Moments page will allow you to quickly sort and locate exactly what you need. You can sort by students, date, tags, status, or type!

Media Approved and Media Restricted
From the "More" filter on the Moments page, you can easily search for media that includes students designated as Media Approved or Media Restricted. You can learn more about managing student profiles to be Media Approved or Media Restricted in the article, Student Management. From Moments, under the "More" filter there are two filters, Media Approved or Media Restricted. These filters will sort and display your Moments based on the selected filter.
Hiding Moments
If you want to hide information from previous years, you can do so by using the Date filter. Select the Date filter, enter the first day of the window you want to view and check the box for "Set as Default Start Date." This is a quick way to hide your Moments from previous years as you prepare for a new school year. You can also learn more about hiding Moments below!
At any time, you can edit a Moment. Simply click on the photo on the Moments page and you will be able to change or add Learning Standards Tags, adjust which students are tagged, and edit the title and caption. You can also remove the Private filter, by clicking on the three dots in the top right and switching the private toggle, as shown in the photo below: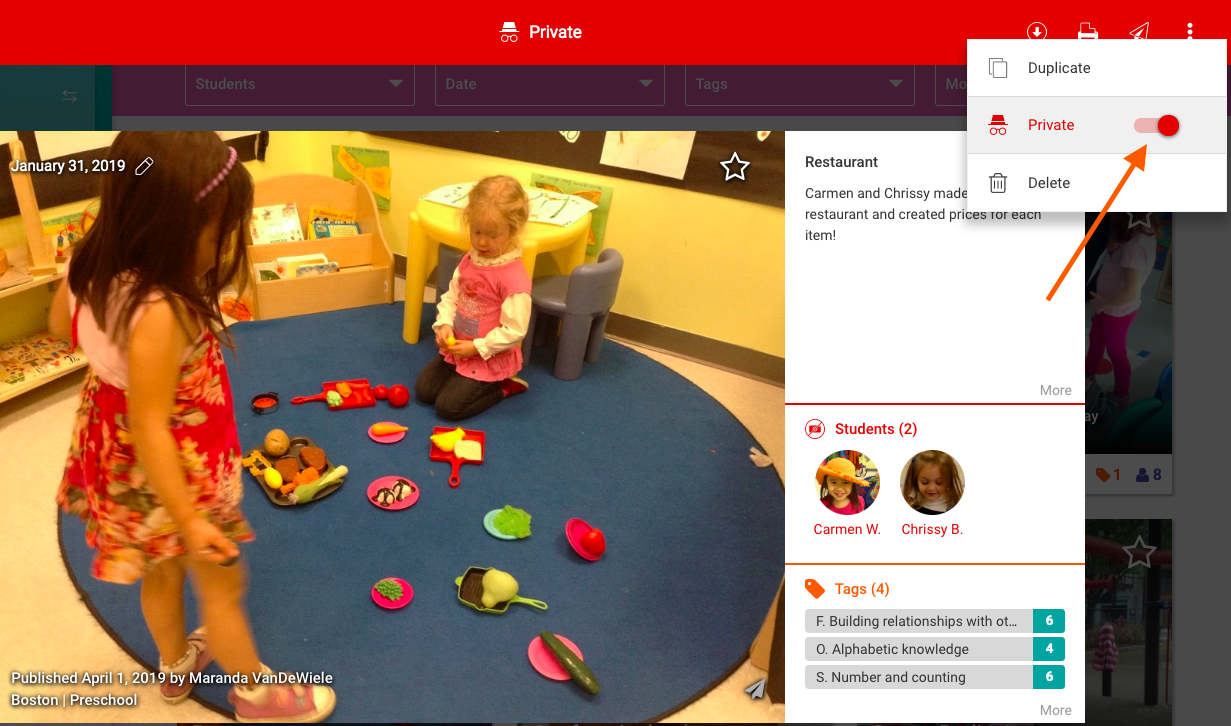 Locked Moments
While accessing your Moments page, it is possible that you will see moments that are locked. If a Moment is Locked, it cannot be edited or changed in any way by any user in the account.
On the Moments page, observations that are locked will appear with either the label "Locked" on the web or with a red lock icon on the app and will be grayed out as in the image below:

There are a few different reasons why a Moment would be locked depending on your account. The two most common are if the Moment was originally published in a classroom that has since been deleted or if the assessment period is locked.
Deleted Classroom
Moments are locked if the classroom they were originally published in has now been deleted. For example, Kevin was once in the Butterfly classroom and is now in the Panda classroom. During some recent Roster changes, the Butterfly room was deleted. When looking at Kevin's Moments in the Panda room, any Moments that were captured in the Butterfly room will still show on the Moments page but will appear as locked, since the Butterfly room was deleted.
Locked Assessment Period
If you are a COR Advantage user, Moments are locked if the period during which they were published has been locked by an administrator. Periods are locked to protect and preserve your data from any future roster changes. Once the period is locked, users will no longer be able to make changes to the observations and assessment data in that period.
Ungrouping Moments
Bulk publishing is a great tool to publish multiple moments with the same tags and captions (think field trips or class projects). You can learn more about bulk publishing here.
Once you've bulk-published observations as Moments, you might decide to break them apart at a later time. Perhaps you'd like to edit the caption or tag on just one of the Moments, or you've bulk published to save time and now need to tag individual students. To ungroup the Moments you've already bulk published:
Click into the group of Observations
Select the Ungroup All icon (see screenshot below)
Select Ungroup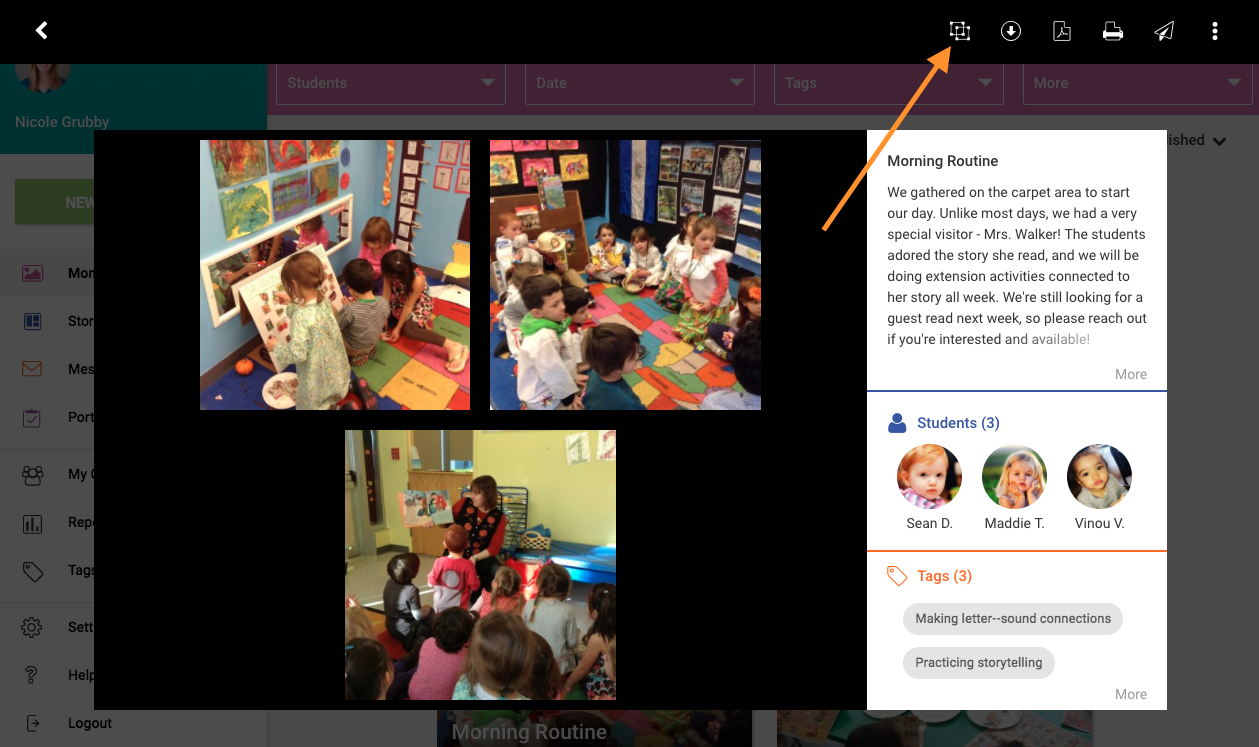 Creating Collages of Moments
Creating collages allows you to further group Moments into one photo! To create a collage, follow these steps:
1. From the Moments page, click on the Moments you'd like to include in your collage.
2. Open the Options Menu (three dots in the black toolbar).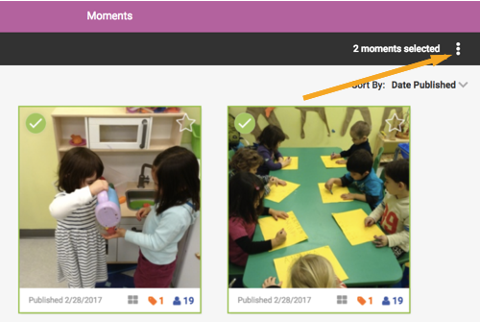 3. Choose the "Create Collage" option.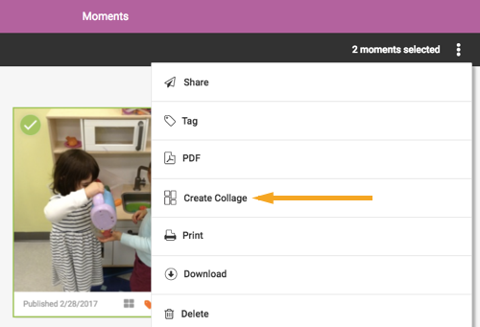 4. In just a few seconds, your collage will be ready as a new Moment!
If you need to export pictures from the Kaymbu system, you have several options to do so!
Print: Selecting Print will allow you to print the full-size images. If working on a desktop, a new window will appear for you to preview the photos and print them.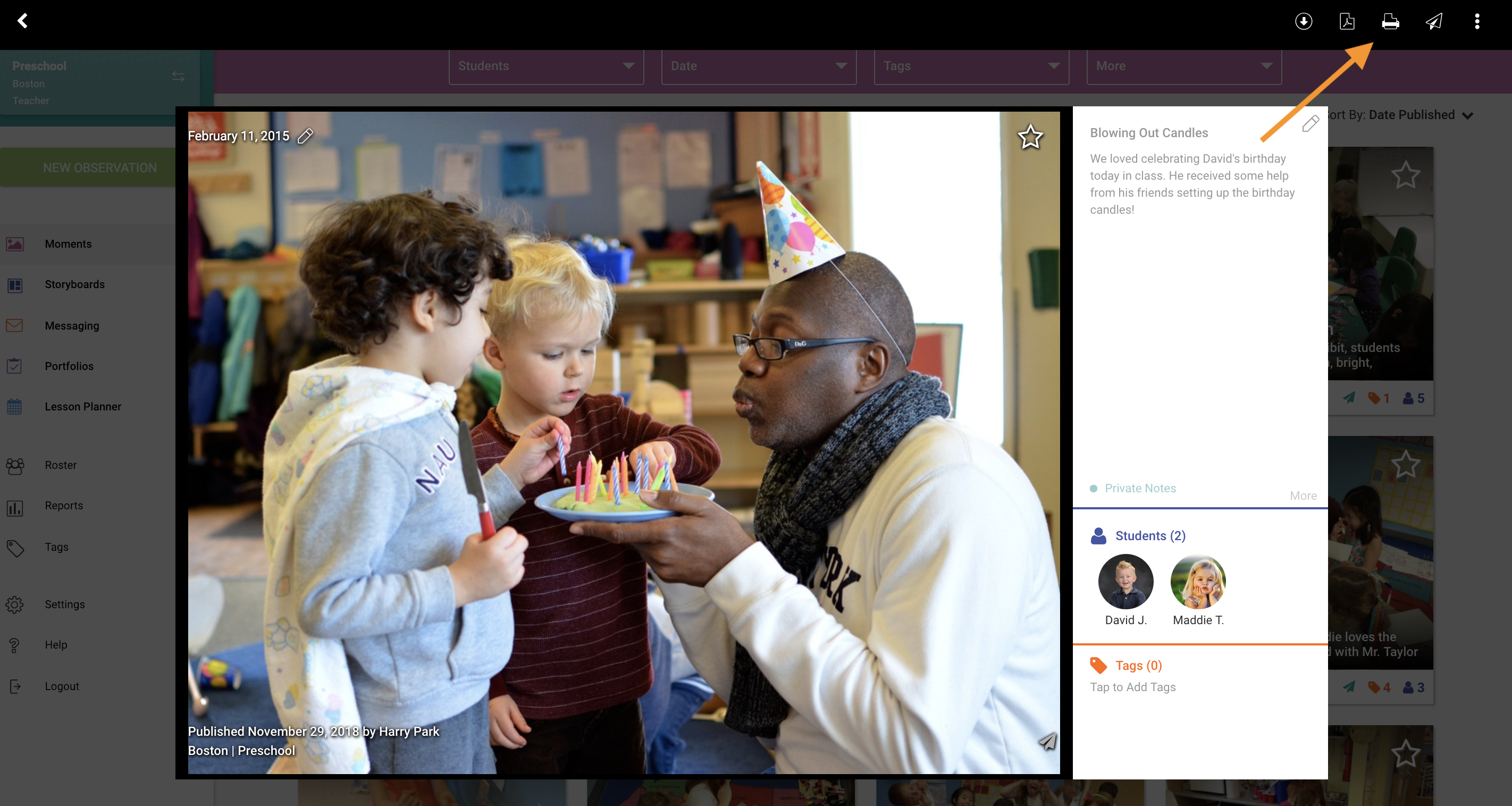 Download: Selecting Download will allow you to download the original high-resolution photos. If working on a desktop, the photos will download to your downloads folder, allowing you to work with them on your computer as needed. If working on a tablet or phone, the photos will open up in a new web browser window, and you can click on the images to "Save Image" directly to your camera roll.
Video Tutorial
Director Approval for Moments
Another way to manage Moments saved in your account is via this setting which requires a Director's approval on Moments. With this setting enabled, directors can review and approve Moments for each classroom within their center. This setting is a useful option for programs looking to monitor the content of photo and video observations before they are shared with families. As teachers observe and document learning and development in their classrooms, directors can also view the captured Moments that are published directly to the Moments Page. You can learn more about this setting and how to enable it at your program by clicking here.