Overview of Family Comments Report
When a family member receives an observation from a teacher, they can choose to comment on it. These comments are sent to teachers and administrators once a week but are also updated live in the Family Comments report. You can access this report anytime to see how your recipients are engaging with the media you send.
Table of Contents
Accessing Family Comments
Access the Family Comments Report from the Kaymbu or COR Advantage app on your device or from the website my.kaymbu.com by going to Menu > Reports > Family Comments. After selecting Reports, users with the COR Advantage assessment will select Family Engagement and then select Family Comments.
Please note, access to Reports from a mobile device is dependent on the size and orientation of your screen. Your device must have at least 768 pixels and may need to be in landscape mode in order to access the report.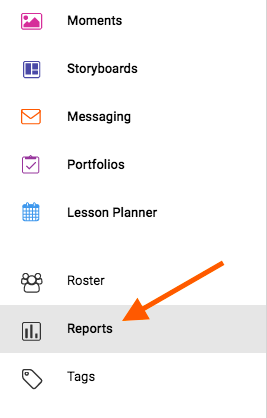 Viewing Family Comments
When you first open the Family Comments, you will see the date, media, comment, center/class, student name, and sender information from the entities you have access to. The comments have been submitted by families on the media that you have sent out. You can learn more about what this looks like for families in the article, "What do families see when I share information with them?"
You can choose to filter this report by students or by date. Additionally, you can download this report by selecting the download icon in the top right corner.