What is Attendance?
Attendance is a new feature in Kaymbu that enables users to track and manage student attendance, locations, and ratios. With Attendance, users can mark which students are present and absent and provide a reason for a student's absence. Through the real-time Attendance Dashboard, Directors can quickly view the number of students present within their center, and through Attendance reports, Directors can track monthly historical attendance records.
Table of Contents
Accessing Attendance
Attendance is accessible to all Kaymbu users from the Kaymbu app on their device or from the website my.kaymbu.com by going to Menu >Attendance. Your user role will determine the screen you see after selecting "Attendance".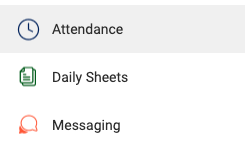 Attendance Settings
To get started with Attendance, Directors will need to set up their Attendance Settings by going to Settings > Attendance Settings. From here, Directors will be able to allow classrooms to edit attendance records, set up locations and ratios, and customize "out of ratio" alerts.
Attendance Editing
Attendance records can be edited by any user by visiting the log on a tablet or from the web. To enable this feature, Directors would need to go to Settings > Attendance Settings > Attendance Editing > On. The video below shows how Directors can enable this feature and how all users can make changes to attendance records.
Locations
To set up locations, navigate to Locations and find a list of classrooms with a pencil icon to make changes. The pencil icon will allow Directors to customize the ratio for that particular location, as pictured below.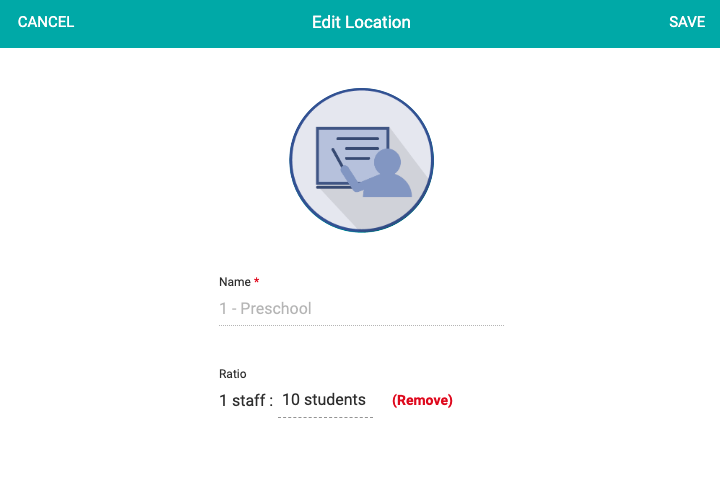 Once all the ratios have been set up for the classrooms, Directors can also add additional locations, such as the playground or cafeteria, by selecting "Add Location" to track students throughout the day.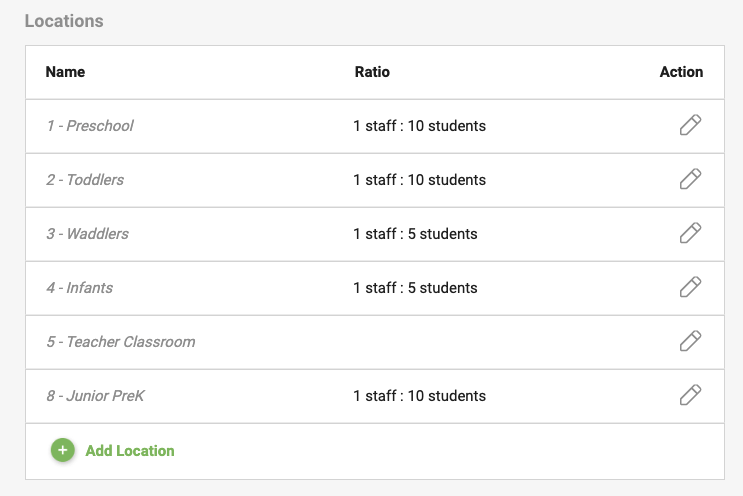 Ratio Alert Settings
After the Locations have been added, Directors will also have the option to turn on "out of ratio" alerts. These alerts will notify Directors if a location goes outside the preset staff-to-student ratio. To turn on "out of ratio" alerts, select the "On" toggle and the pencil icon to customize the frequency and time settings.

Attendance Functionality
The Attendance feature is still under development, and new functions will be added. Below is some more information about the current functionality.

Teacher Duty
Teachers within a classroom can be marked as "On Duty" when they are in a particular location, whether that be a classroom or other location established in the Attendance Settings. When users select "Attendance" on the menu, they will find a list of the teachers marked with a star initially under "Out." By selecting "On Duty," users will be prompted to choose a location.
Check In / Check Out
Students can quickly be checked in and checked out by navigating to Attendance. Please note that when the Attendance feature is active in an account, the Check-In/Check-Out activity in Daily Sheets is automatically removed. When users select "Attendance" on the menu, they will find a list of the students initially under "Out." By default, at the start of each day, all students are listed as "Out." They will then be able to check in a student by selecting either the blue "Check In" box to the right of each student's name or selecting the arrow to select "Check In + Add Note." Checking In a student indicates that that particular student is present for the day. Once a student has been checked in, the student will move into the appropriate location.
Select the red "Check Out" button next to the applicable student listed under the location's name to check out a student. After checking out a student, they will move back to the section labeled "Out."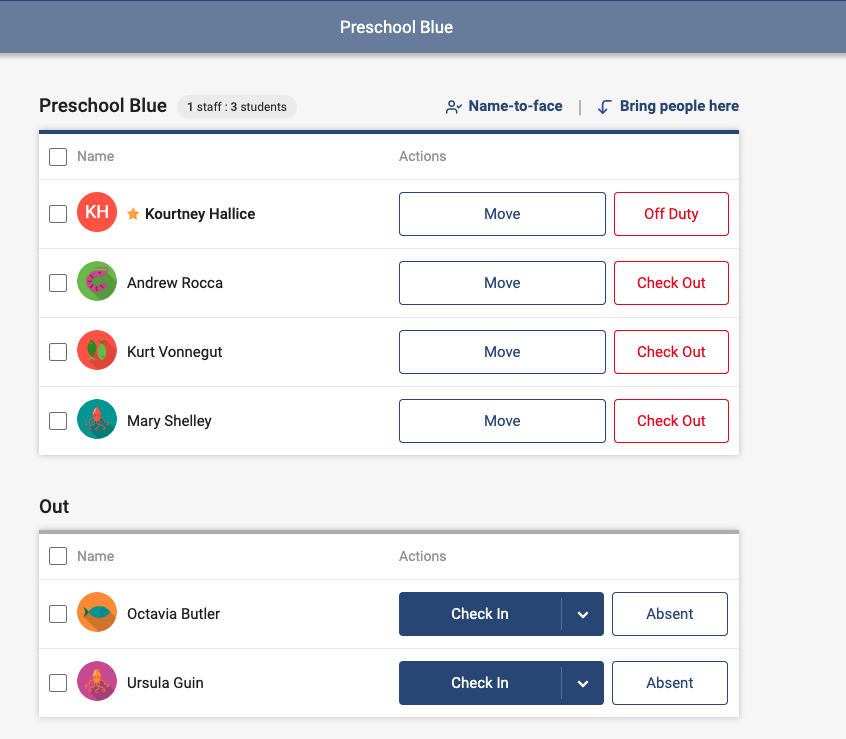 Please note: Directors can also Check In or Check Out a child. To do so, they must first click into a classroom from their Attendance Dashboard.
Absence Notes
Teachers can also indicate if a student is absent by navigating to Attendance and selecting "Absent" next to the students listed under "Out." After selecting "Absent," teachers will be prompted to select a reason for the absence from the options pictured below:

If the "Other" option is selected, teachers can also add a note to provide additional context. After a child has been marked as "Absent," they will remain in the "Out" section of the screen.
If a child has been marked "Absent", but later needs to be checked in, select the down arrow to the right of the word "Absent" and select "Check In," "Check In + Add Note," or "Check In Elsewhere" as shown below: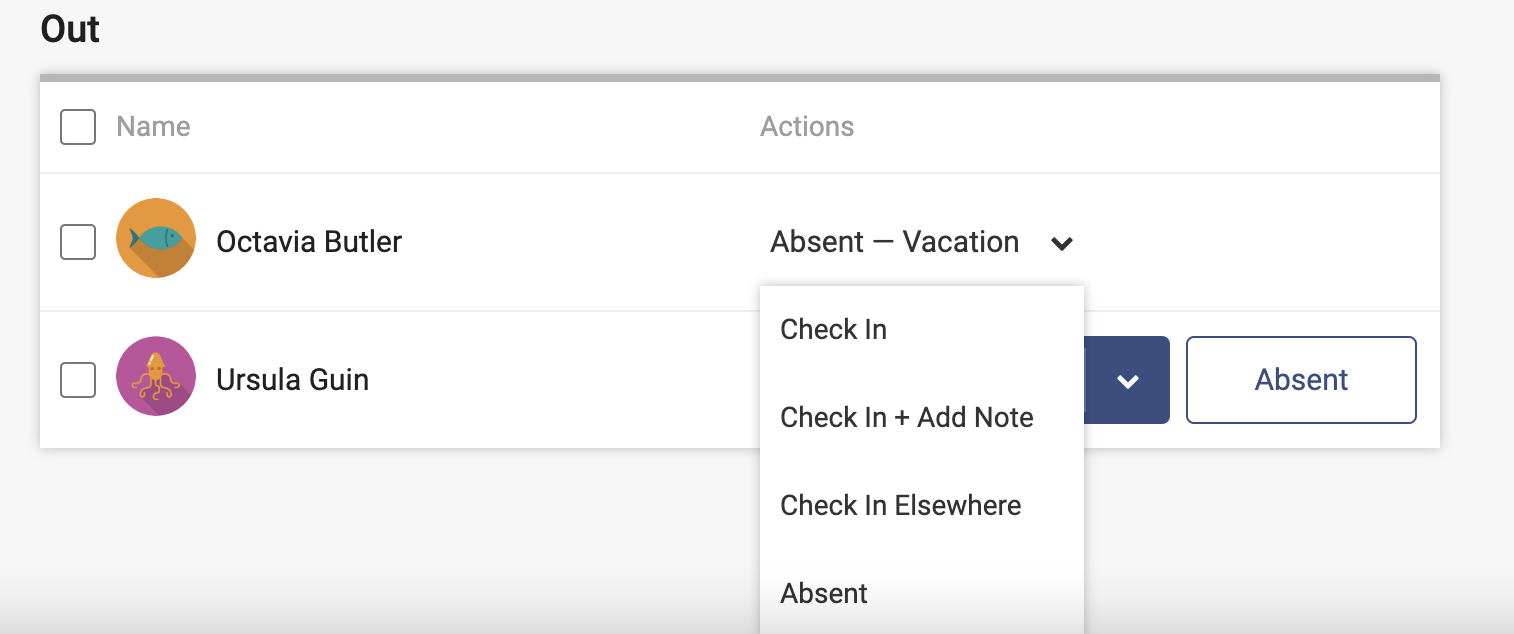 Families also have the ability to mark their child absent through the new Attendance Notes section on the Kaymbu for Families app. Click here to learn more about what families will see and how they can add an absence note. Please note, in order for families to have access to this function in the Family App, a program must first have the Attendance feature, and in addition, must enable Drop Off Notes in their account Settings under Family Communication Settings > Family App > Enable Drop Off Notes. When a family submits an Absence Note through the Kaymbu for Families app, it will instantly appear in the program's Kaymbu account in both the Attendance and Daily Sheets feature.

Name-to-Face Checks
Name-to-face checks allow users to confirm that the students that are marked as present are, in fact in their care. To access Name-to-face, navigate to Attendance, and Directors will select the applicable classroom, whereas Teachers will have access to the students on their Roster. Select Name-to-face at the top of the list, identify the staff member performing the check and check the students as needed.