What is included in Messaging for Families?
Messaging allows you to receive direct communication from your school community. School administrators and teachers can send family members Conversations and Announcements directly to the Kaymbu for Families app. This built-in feature is a convenient way to directly connect with your school community about general communications, announcements, and urgent updates!
Table of Contents
Accessing Messaging
Families can access the Messaging feature from the Kaymbu for Families app on their device. If families are unable to access the Kaymbu for Families app, they will receive Messages to their email or phone number.

Features of Messaging
Messaging includes two features, Announcements, and Conversations. Announcements allow staff to send updates or general communication to all families within their center or classroom. With Conversations, teachers and directors will be able to hold back-and-forth conversations with families. Announcements can be sent by all user levels, whereas Conversations can be sent and received by Directors and Teachers.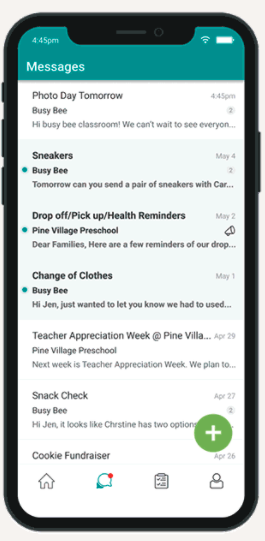 Shared Inbox
Families will share an inbox where all family members attached to an individual student profile can access the same Messages. This means that all connected family members can view the communication shared through the Kaymbu messaging platform, whether the school or family members initiate that communication. Please note, there is no ability to message an individual family member through Kaymbu's messaging platform.
Receiving and Sending Messages
Once a Message has been sent, families will receive either a text message, an email, or a notification on their Kaymbu for Families app.
Receiving via Text Message
Families that only have a cell phone number in their family profile and do not have the Kaymbu for Families app will receive all Messages via text message (SMS). Announcements and Conversations will be sent to you via SMS with a link directing you to download the Kaymbu for Families app. It is important to note that in this case, family members will not be able to respond to either Announcements or Conversations that have been sent via SMS.
Receiving and Sending via Email
Families that have an email address in their family profile will receive all Messages via email. Announcements and Conversations will be sent to you via email, allowing you to read the Message. Announcements are read-only and cannot be responded to by design but Families can directly reply to Conversations via email. To reply to a Conversation via email, simply reply to the email, as you would to any other email and your response will be sent directly to the Teacher or Director.
Receiving and Sending via Kaymbu for Families App
Families that have downloaded the Kaymbu for Families app will receive a notification when a Message has been sent. Families are able to view Announcements and Conversations from the Messaging section of their app. Announcements are read-only and will have a microphone icon in the right corner. You can reply to an existing Conversation or start a new one by selecting the green plus button in the lower right of the Kaymbu for Families app. Follow the steps below to learn more:
Select Conversation by selecting a current Conversation from the feed or selecting the green plus button to start a new thread
Add text to the reply box
Select "Send"