With the new COR Advantage system, teachers are able to capture photos, videos, and anecdotes through the app, but they can also upload observations into their assessments via the web portal at my.coradvantage.com. There are two ways to add new observations online:
New Observation
Step 1) Navigate to the Drafts page
To create a new observation, click New Observation at the top of your online menu.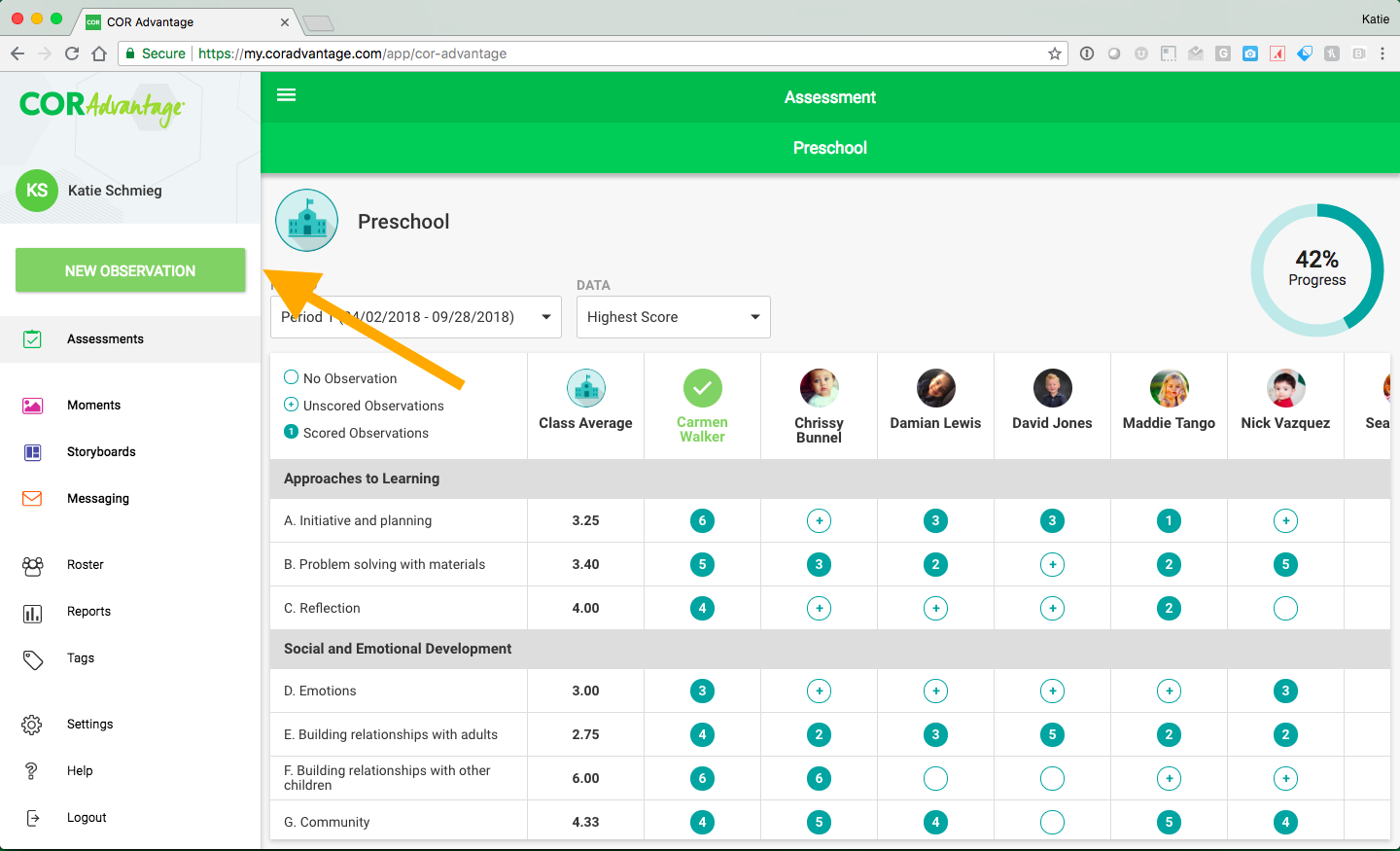 This will take you to your drafts page. Click the green circle plus button at the bottom right to begin a new observation.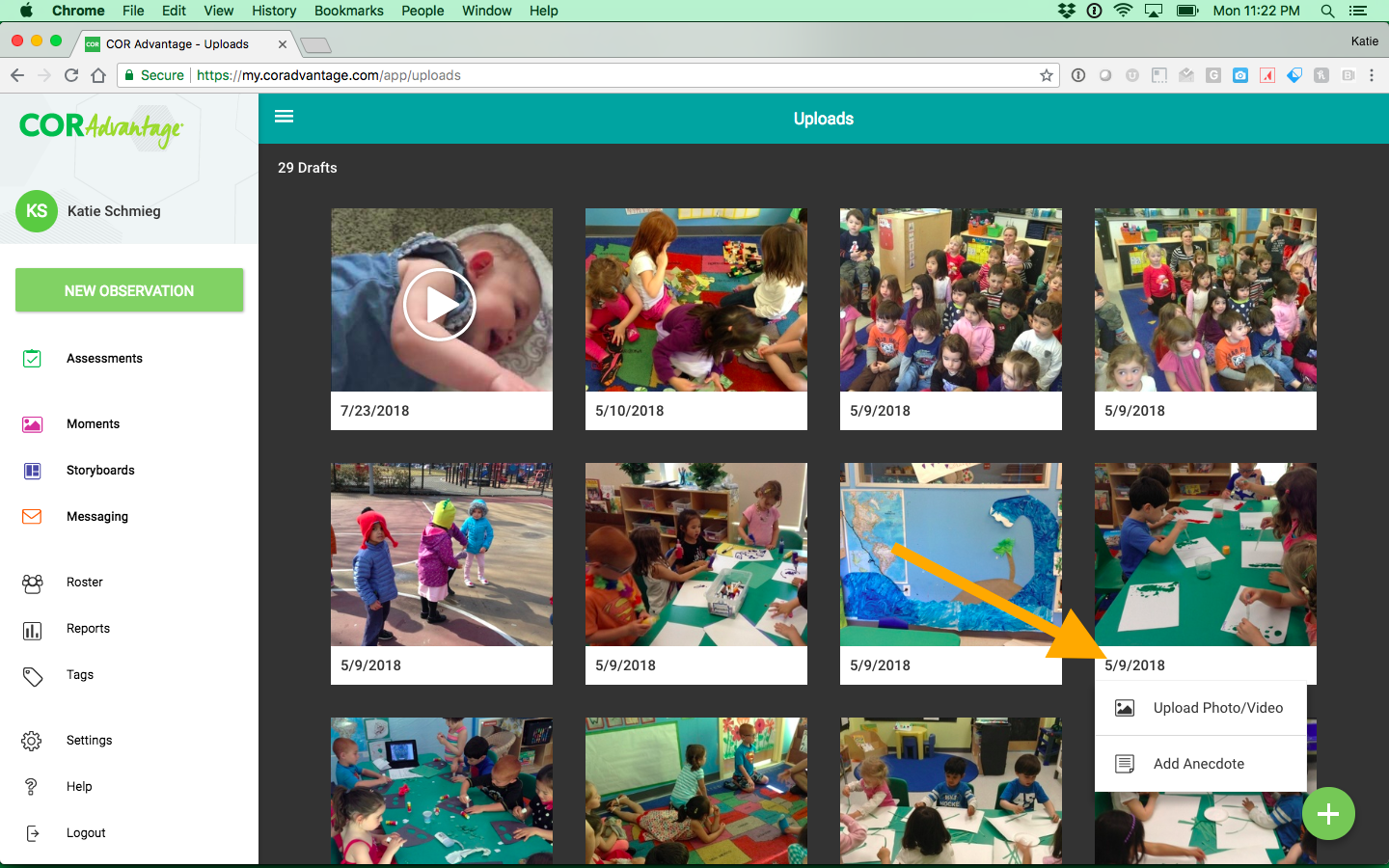 Step 2) Create the Observation
If you click Add Anecdote, then this page will appear, allowing you to write your anecdote, and connect it to both your students and the COR items.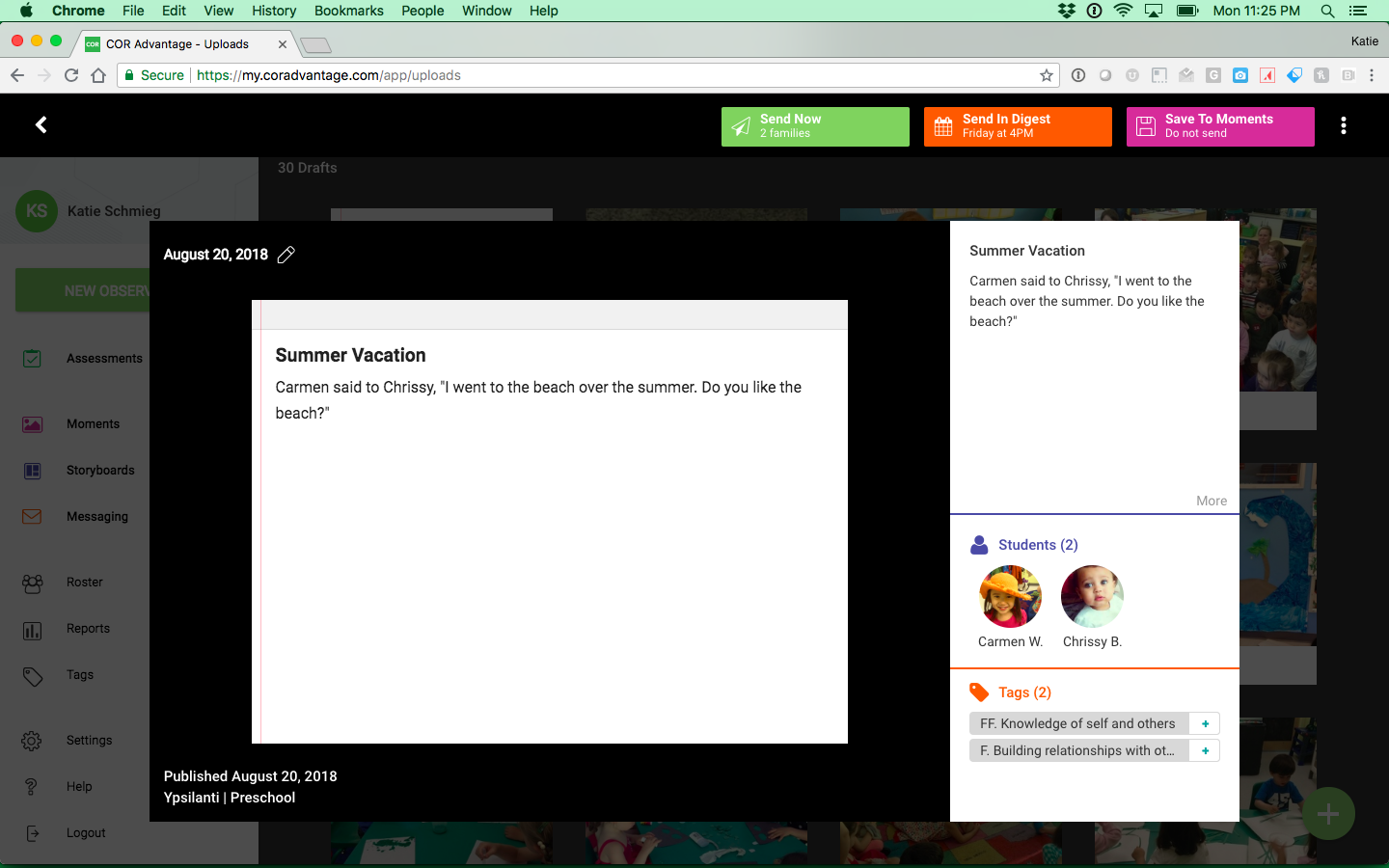 If you click Upload Photo/Video, you will be able to select a file from your computer to load into the system. Like Anecdotes, these pictures can also be connected to your students and COR items.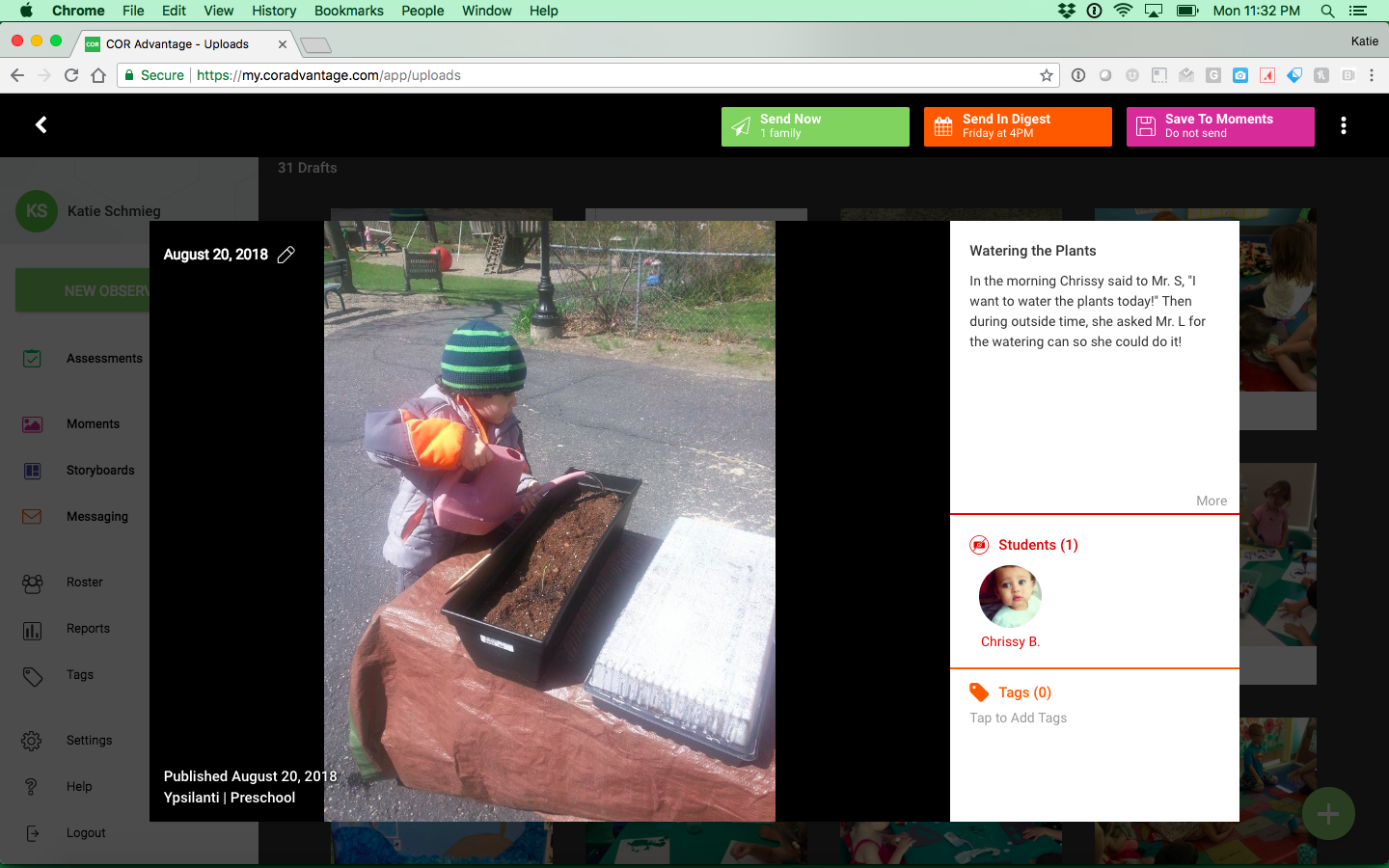 2a) Scoring (optional)
You can also choose indicators at this stage, by clicking on the arrow next to an item. You do not need to connect your observation to the items or indicators before you save it into the system.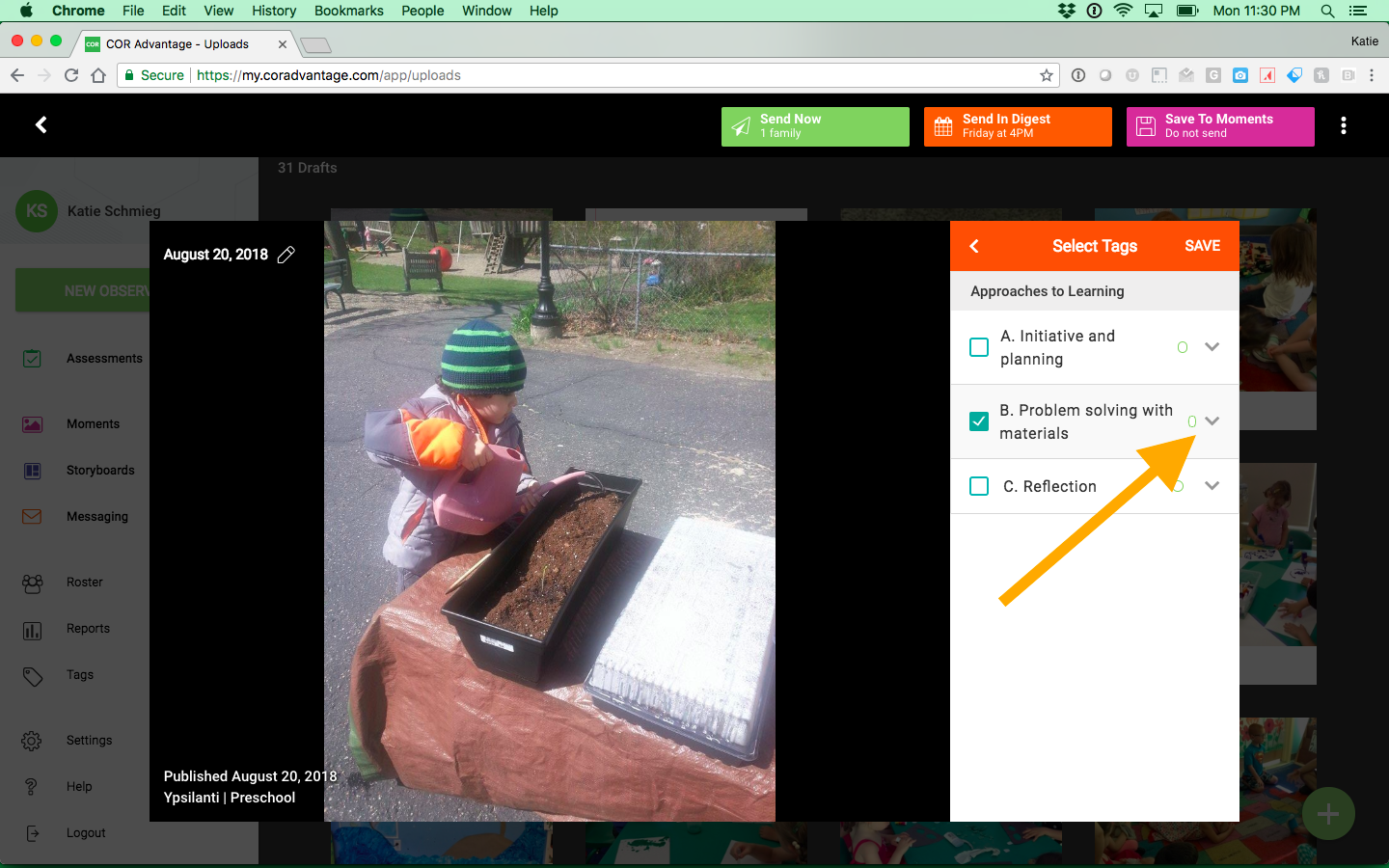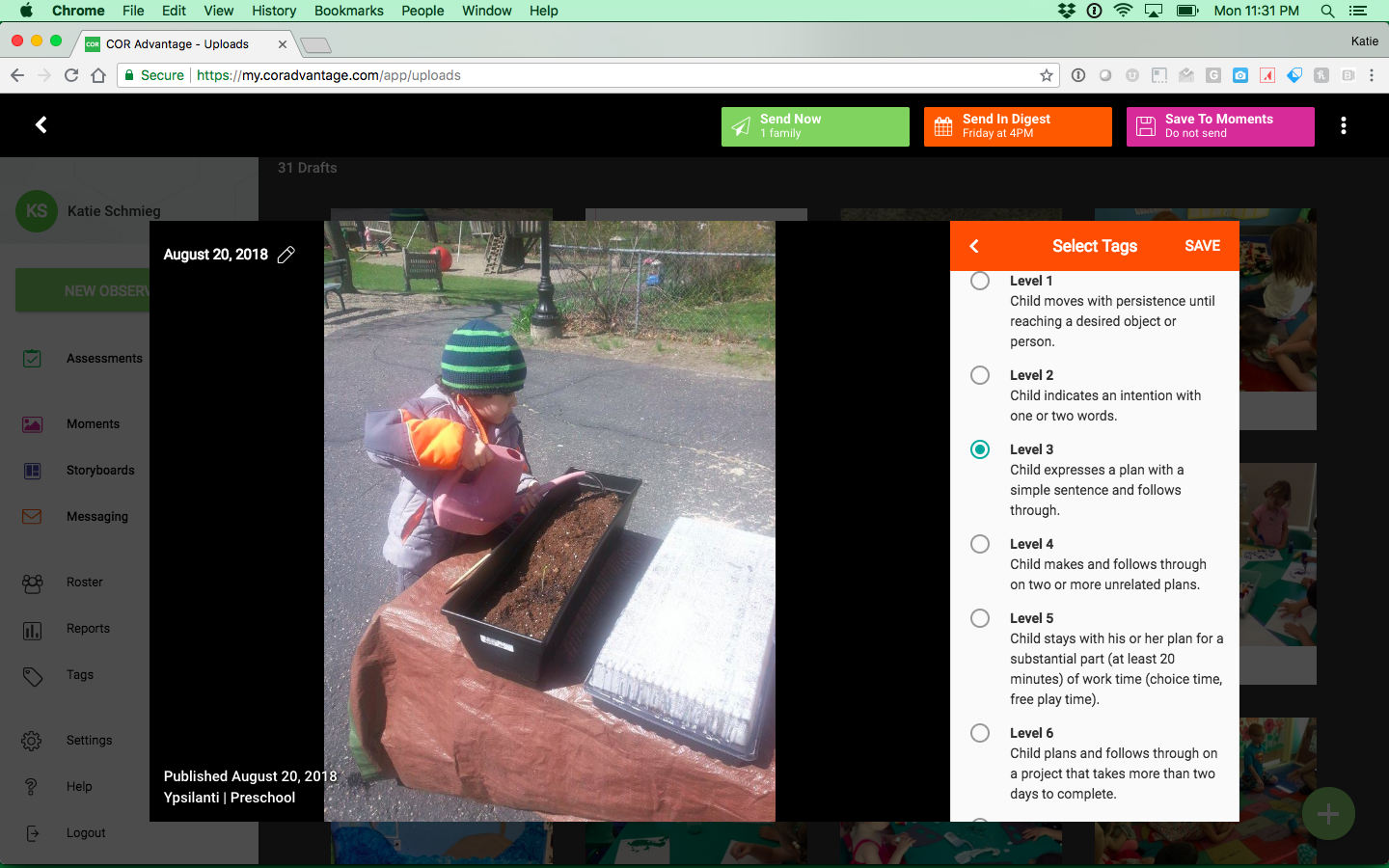 Step 3) Save the Observation (and share it, if you want!)
Once you have finished the observation (for now, you will be able to make any changes you want to later, including proofing your notes, adding items, scoring, and more), you will need to select one of the three options at the top of the screen in order to save it.

Send Now - The observation will be delivered immediately to families of all of the students you tagged, and saved in your account.
Send in Digest - The observation will be delivered to families of all of the students you tagged whenever the next Digest is scheduled to go out, and saved in your account.
Save to Moments - The observation will be saved in your account without being shared with families.
Once you click one of the three buttons, the observation will no longer appear on the Drafts page. Where is it now? If you connected it to both a student and an item, you can find it in your Dashboard in the appropriate student's assessment. If you didn't connect the observation to an item, that's ok! It's still safely stored on the Moments page. You can go there to look at all of the information you've saved, and make any changes. This will also be helpful in the next section on adding in observations.
Dashboard
Observations can also be added directly into your Dashboard. Click on one of the circles to drill into a particular item on a student's assessment. Then click Add Observation.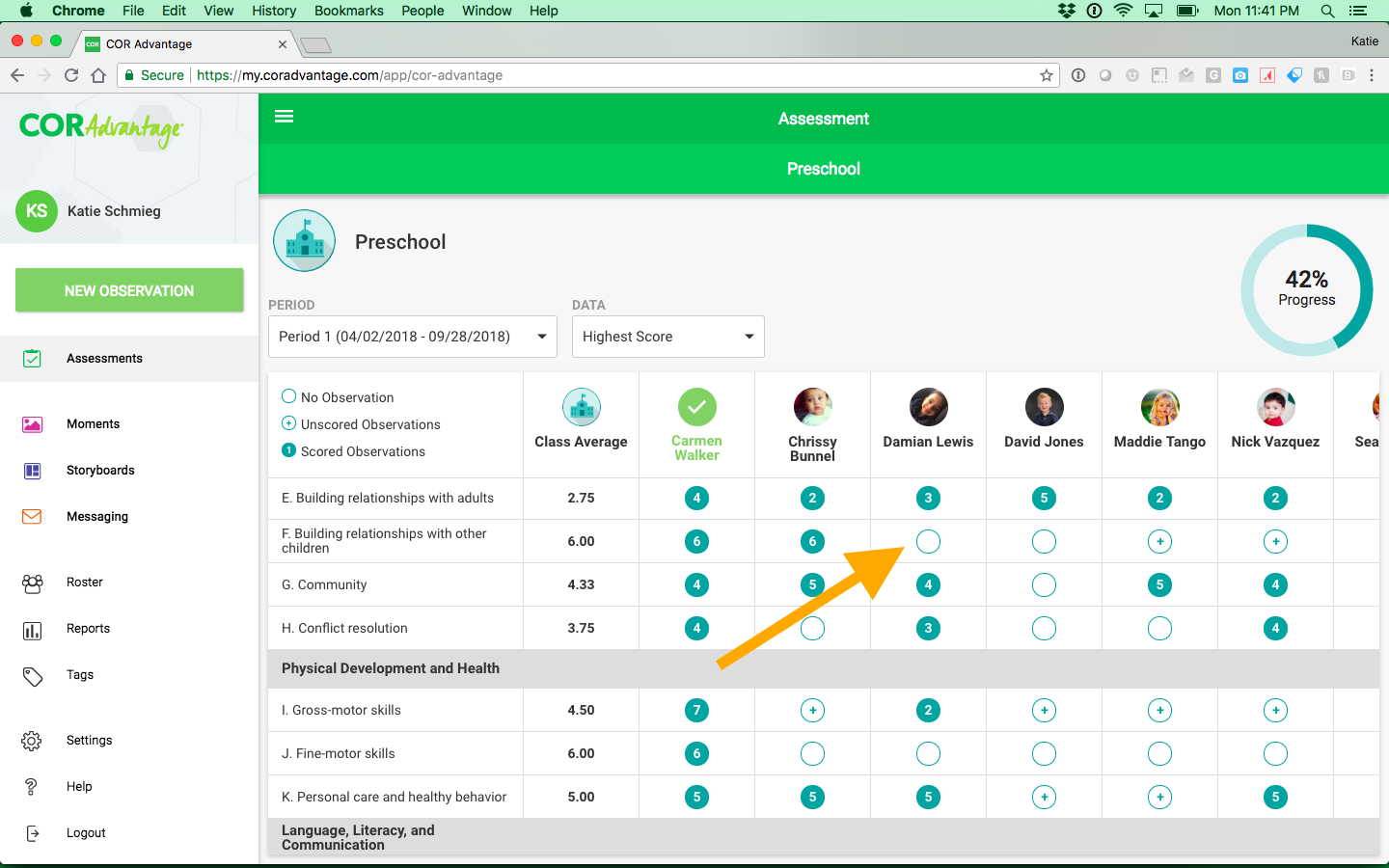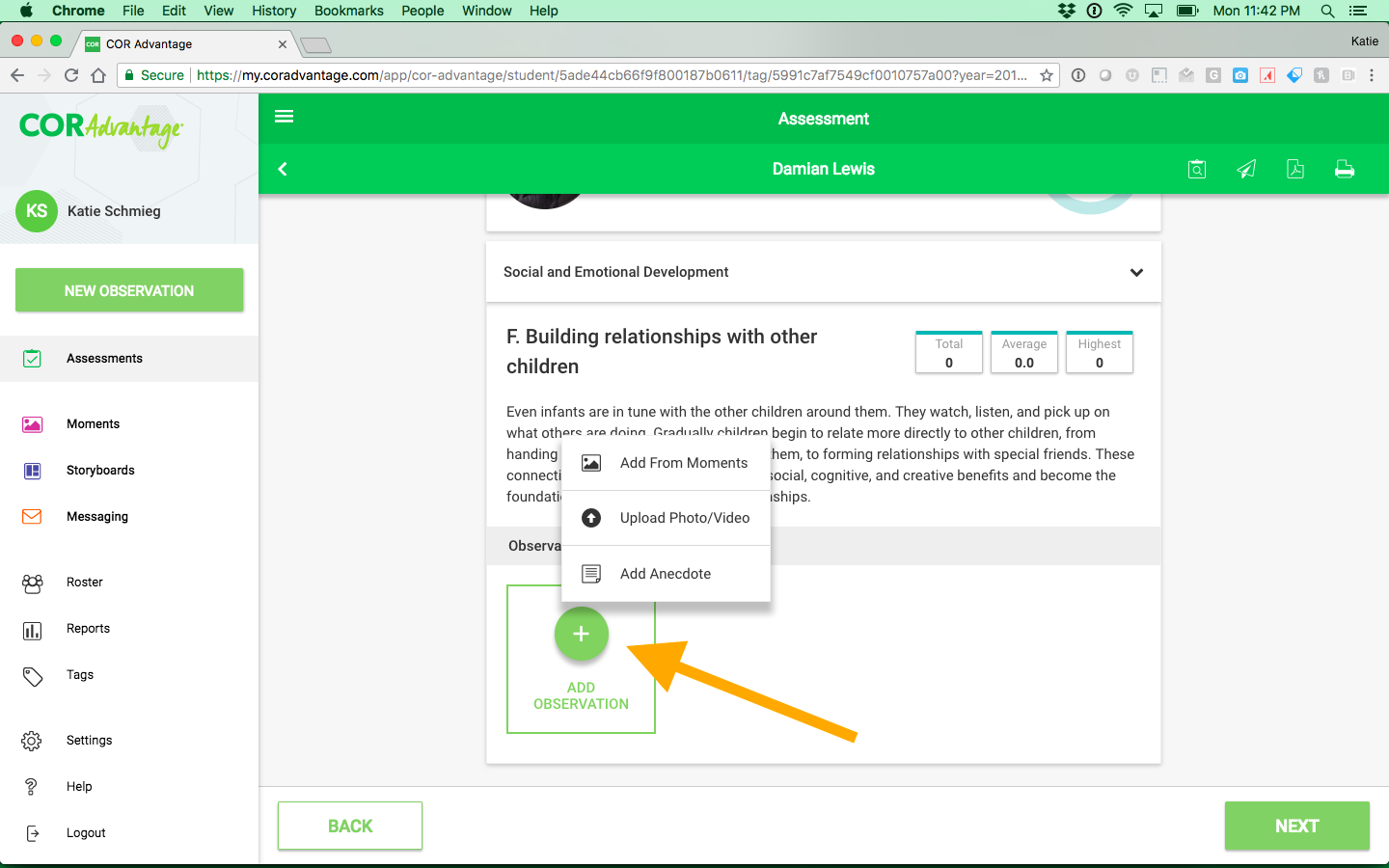 Add from Moments - Earlier we mentioned that you can save observations to the Moments page. Now you'll be able to pull those observations into your assessments directly.
Upload Photo/Video - This is a very similar process to New Observation, except the observation will go right onto the student's assessment. Please note that you will not be given option to share the observation with families if you load it into the system this way.
Add Anecdote - Just like in the example above, you'll be able to write your anecdote, then connect it right into the student's assessment, and score it!
FAQs
What is a Draft?
A Draft is an observation that has not been fully processed. You want to make sure to choose Send Now, Send in Digest, or Save so that the draft will be saved into the COR system. Once you've done that, the observation will be accessible on the Moments page, and visible to your co-teachers and administrators.
What happens if I save a Draft without connecting it to my COR items or scoring it?
If you don't connect a Draft to one of the items before you save it, the observation won't go into your Dashboard, because it doesn't know where to go! But that's OK. You can either pull the observation right into your Dashboard (as described above), and you can also go to the Moments page to take a look at your observations, and add the items and indicators in there! Then the observations will automatically appear in your Dashboard.