Family Profile Overview
Family profiles can be easily added to your account through the Roster page. School and program staff fully manage the family profiles, including adding and editing contact information. In order for Teachers or Administrators to set up a family profile, they will need the families' first and last name, email address and/or phone number, and their home language. Kaymbu gives families the ability to translate all communication they receive into over 100 languages, based on the home language selected in their profile. There is no limit to the number of family members each student can have so feel free to include any grandparents or any other caregivers!
Table of Contents
Accessing Roster
You can access family profiles from the Roster through the Kaymbu or COR Advantage app on your device or from the website my.kaymbu.com by going to Menu > Roster.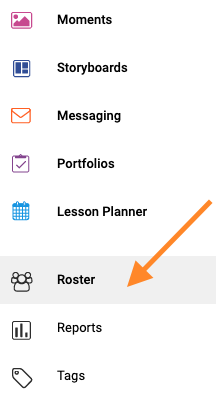 Add Family Members to Student Profiles
It is not required to connect family contact information to each student, but if you are going to share information with families, you will want to add their contact information. From a student's profile, simply select "Add Family" and enter the required information, which includes full name, email and/or phone number, home language, and selecting to enable or disable Daily Sheets.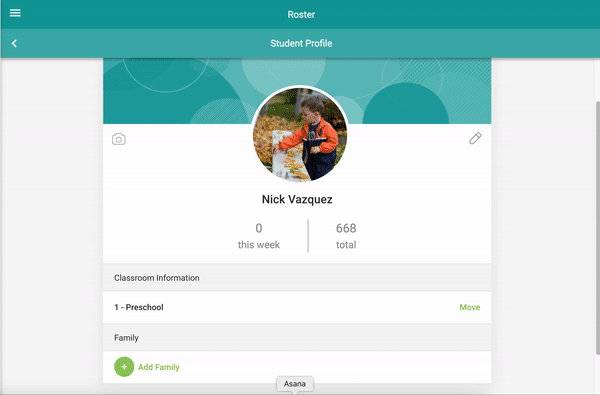 Roster Toggles
There are two toggles when adding a family profile - Mobile Notification Settings and Daily Sheets.
Mobile Notification Settings: If a family member has both an email and a phone number in their profile, all communication will default to email. If the family member only has a phone number in their profile, you will have the ability to turn the Mobile Notification Settings toggle ON and that family member will receive communication via SMS.

Daily Sheets:

You can enable or disable families from receiving Daily Sheets by turning the Daily Sheets toggle ON or OFF. By default, all family members will have the Daily Sheets toggle ON. If you'd like to exclude a family member from receiving Daily Sheets, turn the Daily Sheets toggle OFF.
Customize Family Home Language(s)
Families have the option of translating all communication that is sent to them into over 100 languages! This includes Moments, Digests, Storyboards, Messages, Lesson Planner, and Family Reports. Families will receive your original message with a link at the top asking if they would like to translate the content into the language connected to their profile. If they choose to translate a particular message, they will click on the link to automatically translate everything! To learn more about what families see when you share information with them, click here.
Each family profile can be set up with their own language preferences through the Roster. Follow these easy steps to update language preferences for an individual family profile:
Click into a student's profile.
Select the appropriate family contact.
Choose the new language and select Save!
Edit Family Profiles
Family profiles can be edited at any time by clicking on the profile under "Family." Once you have made the necessary changes, click "Save." If you are making edits and receive an error message, please reach out to us at help@kaymbu.com, as it is possible that the family's profile needs to be reset. Please note, family members are unable to edit their contact information from their end, and for security reasons, this action must be completed by the child's program or by the Kaymbu team.